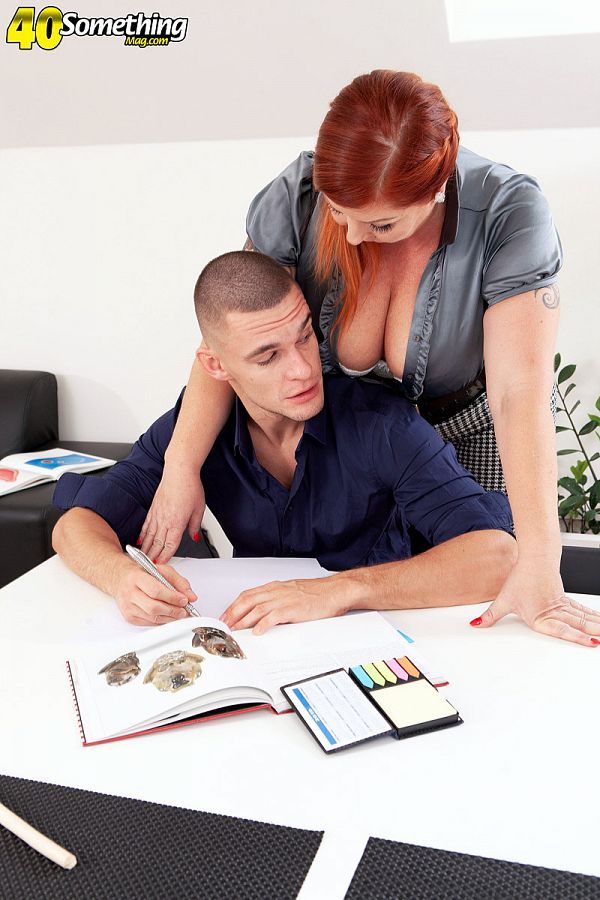 Tammy Jean is an art teacher, but her students, Matt and Max, aren't paying any attention to their artwork. They're paying attention to the work of art that is teacher's body, mainly her big, fat tits. They can't take their eyes off of them, and judging by the way she's dressed, Tammy doesn't want them to.

She gives them a better look by unbuttoning her top, and from that point on, it's pencils down, dicks up. Tammy goes back and forth sucking their cocks, then they take turns on her pussy, and before long, they're double-stuffing the teacher, DPing her for all she's worth. She's worth a lot.

Tammy Jean is a 44-year-old divorcee and mom from the Czech Republic, and this is her first fuck at 40SomethingMag.com. It's a good one. How many women get DP'd in their 40SomethingMag.com debut? Not many. None that we know of. But Tammy gets what Tammy wants, and she wanted to be DP'd, so we gave her two of our best. Not two of our best students. Two of our best studs. They glaze her face until their cum is dripping down her chin and onto her tits. Yeah, those hooters are worth two big loads.

Tammy is from Brno. She enjoys traveling, spending time with her family and flirting. We're guessing she's very good at the latter. She usually doesn't wear panties. She's a camgirl. She's also a nurse. We asked her if she's ever had sex with a much-younger man, and she said, "Sure. Ten men."

Why does that not surprise us?