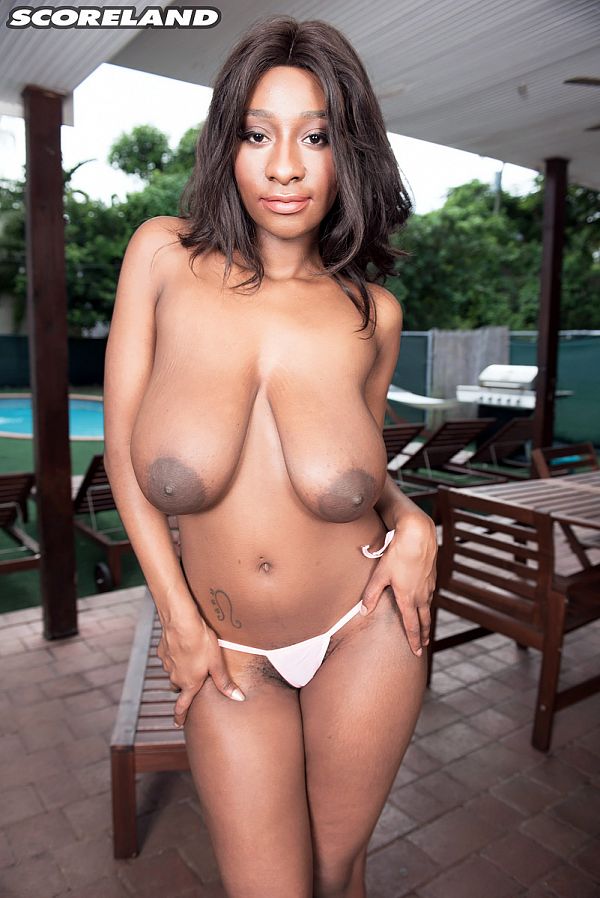 Lexi Slade has a slim, stacked rack that's perfect for bikinis. The swimsuit she's picked is a pink string bikini. The bottom is a thong that bares her butt cheeks completely and the bikini top doesn't come close to covering the large areolae of her big, pliable tits.

It's a hot day, perfect for Lexi to play at poolside, twerk her cheeks, swing and shake her ta-tas and oil up. The video version has titillating slow motion of Lexi's body rockin' and rollin'. Back in normal speed, Lexi spanks her pussy and fingers her pink slit deep. On a recliner, she spreads her legs wide and gets her feet up in the air. Her sleek body shines in the sun. When she cums, she licks her pussy nectar off her fingers.

"I'm sexually assertive with men far more than I am with women," Lexi told us. "I'm very dominant when it comes to relationships with guys. I don't worship men the way I do women. I'm very submissive, shy and nervous when it comes to any girl I like. I'm not really sure why but they scare me and make me tremble. Which is probably why I'm so in lust with the thought of being with a girl. A dominant girl!

"Every girl I was with, I felt like I had to be a little assertive and I don't know how to do that the way I know how with men. Men are so easy to break down. It's amazing and that as well turns me on. How easy is it for me to control a man and have him do whatever for me. The best thing is they always choose to do just that without me even having to control them. It's amazing. But women? I'd do anything for a woman I loved. Pussy is power."