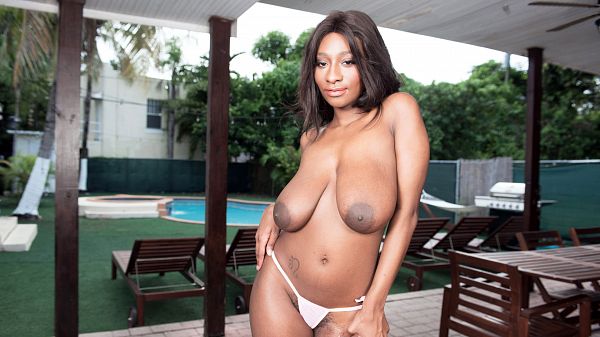 It's a hot day. Just right for bikini play. Very slim and stacked with pendulous breasts, Lexi Slade wears a pink string bikini with a thong bottom. Her ass cheeks are bare. The top doesn't cover her large areolae. This is our kind of bikini and our kind of bikini girl.

Lexi wants to play. She bounces her big tits and twerks her butt. It's slow motion time to make it last. When Lexi takes off her bikini and does a total oil immersion, the slow motion kicks in again.

Shinning from oil, Lexi gets on a lounge chair and furiously rubs her pussy, eyes wide open. She lifts her legs up and sticks her fingers in deep. After Lexi cums, she licks her fingers. Lots of sexy talking and tit swinging and twerking make this show a Lexi feast for the eyes.