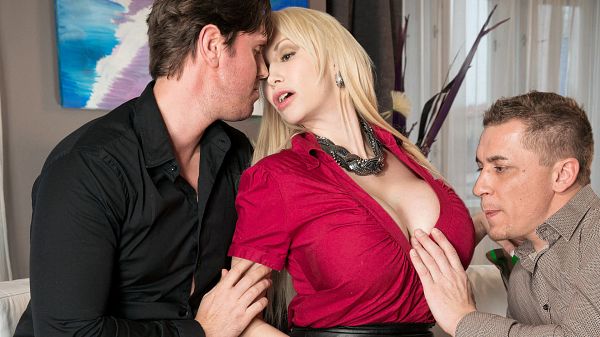 "Before Sandra Star gets her big boobs out, she's already sucking and jacking cock," I wrote on SCORELAND. "Each of her two fuck buddies in this scene enjoys a different side of Sandra, literally. She takes Steve's dick down her throat as he sits back while Tom takes the rear position, licking her pink hole and then fucking her."

Sandra Star impressed me when she first appeared as the winner of the Miss Hot SCORE contest in Germany. Hot SCORE was the title of our German edition of the magazine. The great German porn star and celebrity Annina was one of the judges in that contest, and she saw what your editors saw in Sandra.

"I was very interested in magazines like SCORE, and I like it very much," Sandra said. "I love how beautiful the girls are, and I love that there are so many men who adore girls with big boobs. I love the way SCORE celebrates big boobs. It makes me feel special. I was very excited to see I was the covergirl of the magazine."

A few years later, Sandra supersized her already big tits and resumed her porn fucking. Multiple guys are her thing.

Sandra has a boobs-to-waist ratio that's seen more in big-tit fantasy art than in real life. This makes her breasts look even bigger.

Sandra summed up her life goals in one sentence: "My complete life is about sex and the pursuit of sexual pleasure."