"I have always been one of the guys," said Billi Bardot, a 41-year-old mother of five from North Carolina. "I always had a lot of guy friends, and we do the same things. Hunting, dirt-bike riding. I hung out with a bunch of guys who did MMA [mixed martial arts]. I'll have my friends come up to me for advice and they'll say, 'Well, you're kinda a girl, right?'"

Kinda? There's no kinda about it. Billi, who's debuting this week at 40SomethingMag.com, is a woman through and through, from top to bottom. She has a beautiful face, a winning smile, blonde hair, shapely legs and a small waist. She's got booty, too, enough to make any ass man happy for days, weeks, years.

And she's got tits...man, does she have tits! They're big, fat M-cups, which means SCORE Men are going to love her, too. We have a series of movies called SCORE Silhouette, and Billi definitely has that curvy silhouette going.

"If I want to emphasize my breasts, I'll wear super low-cut tops, tanks tops or anything that's form-fitting," Billi said. And what a form she has!

This is Billi's week: solo photos today, solo video Tuesday, a great video interview Wednesday, then her first fuck photos and video on Thursday.

Billi is the classic MILF, like a woman out of the 1999 movie American Pie. And speaking of pie...or cookies.

"Our house has always been the hangout house. I prefer to know what my kids are doing and who they're doing it with, so we always had a house full of kids," Billi said. "But one day, I was taking cookies out of the oven, and my son yells at his friend, I guess they were 15 at the time, 'Are you looking at my mom?' And that caused a little bit of a problem. My son hit him."

Guys, you're in a No Danger Zone. Look at Billi all you want. Her sons are home and they don't know she's here.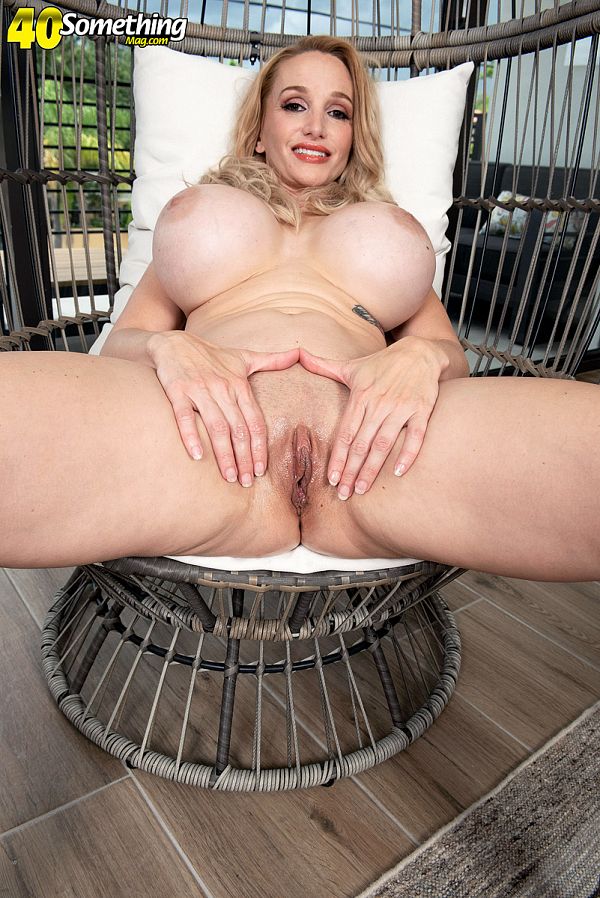 See More of Billi Bardot at 40SOMETHINGMAG.COM!