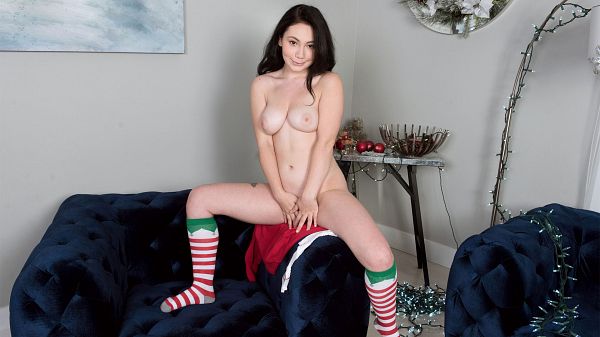 Lenna's feeling in the holiday spirit, so she gives us a hot X-mas gift: her juicy teen tits and horny, tight pussy.

Lenna has full C-cups with big, pale-pink nipples. She squeezes them together and pinches her nips while saying dirty things like, "I wish you would suck on them and play with them."

She finishes undressing, revealing soft, pale teen flesh and a neatly-trimmed triangle of dark pubes on her pussy. Lenna reclines on the couch and spreads her legs, revealing her slit.

"Isn't it so pretty?" Yes, yes it is. She strokes and fingers her pristine cunt, because all she wants for Christmas is an orgasm--and that's exactly what she's going to get.