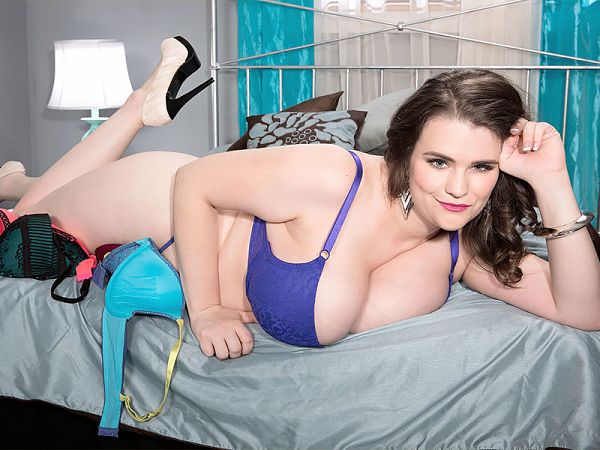 "My mother was sort of an exhibitionist and I grew up in sort of a nudist household, so I never worried about my body," Tiggle Bitties said. "I got teased a little when I was a kid, but I'm really comfortable. Why hide it?"

Tiggle has 32MM boobs and a creamy, sexy body. She immediately became a favorite, judging by the number and types of comments and emails that came in when she first appeared. I thought she was exactly the kind of girl Voluptuous magazine searches for.

I played the "Let's play dumb" game with Tiggle. It was a change of pace and Tiggle was game.

SCORELAND: Let's play dumb-or-not-dumb with questions that people have asked you. The first question: Are they real? Dumb or not dumb?

Tiggle: Dumb!

SCORELAND: Do they hurt your back? Dumb or not dumb?

Tiggle: This one seems like common sense.

SCORELAND: Can you see your toes because your boobs are so big? Dumb or not dumb?

Tiggle: I can see my toes! Not dumb, just silly!

SCORELAND: Could you smother someone with your breasts? Dumb or not dumb?

Tiggle: Yes, I'm sure I could if I were so inclined. Not dumb.

SCORELAND: Is it difficult to run? Dumb or not dumb?

Tiggle: Impossible to run. Not dumb!

Unlike many girls, Tiggle knows how much her boobs weigh.

"I weigh 155 pounds with 20 of it being in my breasts. I have weighed my boobs. I had a friend help me. He held them up while I stood on the scale, and we were able to ascertain that the left one is 10 and a half pounds and the right one is nine and a half."