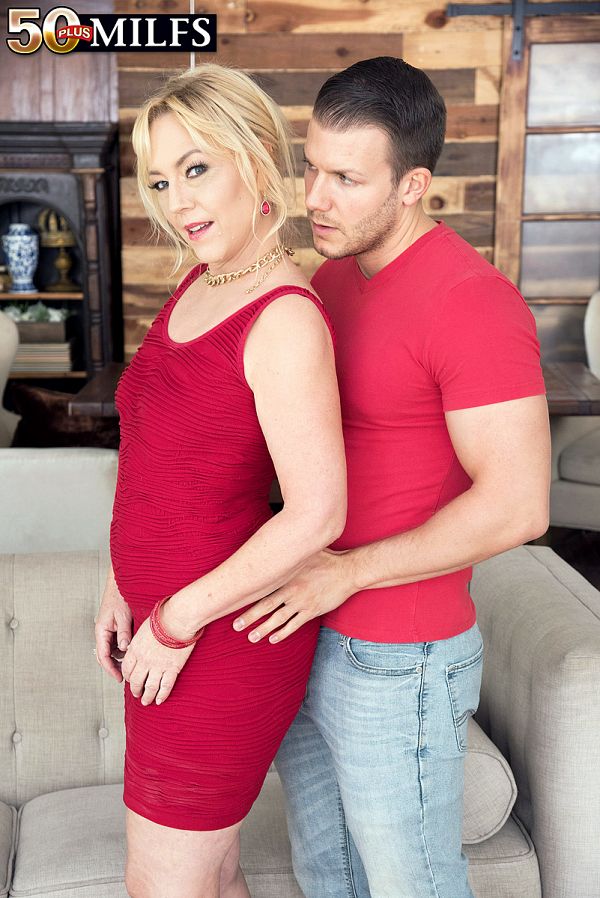 "I actually was signed by a modeling agency in the '80s, and I was going to do some porn with people like Ginger Lynn and that group, but life took another turn."

So says Justine, aka Badd Gramma, a 53-year-old divorcee, mother and grandmother who, here, makes up for lost time by sucking and fucking a young stud for all the world to see. By the way, it's Justine's hairy pussy that he's fucking. He also cums all over this sexy blonde's pretty face.

Justine has been a professional dominatrix for a while, and she said, "One of my fans, who is also one of your 50PlusMILFs.com members, said he thought I would be perfect for you."

That she is.

There are two sides to Justine: the dominatrix/porn star side and her more-private side.

"I write poetry and I'm also a mother and a grandmother," she said. "I do quite a bit of babysitting. One of my kids is going to a university to get a chemical engineering degree, so that's one of the reasons I do what I do, so I can have the extra time and the resources necessary to support my family.

"I like to go out and sing karaoke. I like to go on the water. Boating, sailing, swimming. That sort of thing. I'm a huge X-Games fan and I love the Winter Olympics. I love dancing, fine dining, arts and culture. All kinds. One night it's the ballet or symphony, the next a Marilyn Manson concert! I love a good memoir. Someday, I'll write my own. Right now, I'm living the dream."