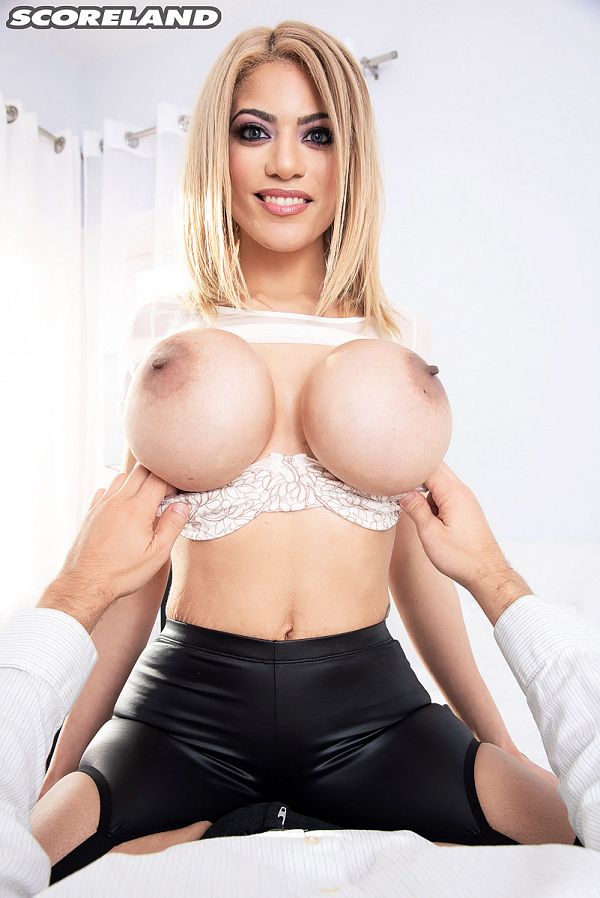 It's point-of-view, I-see-you time with Amber Alena, and the pounding way she rides cock can put a guy in the ICU from exhaustion. This scene is proof again.

Amber shares our breast fixation and obsession. That led her to exotic dancing, then web-cam shows and now SCORELAND. Big boobs and a high sex drive.

"I realized I was an exhibitionist late," Amber said. "Probably when I was 18. That's when I started to realize that I wanted to explore my sexuality. Before that, I'd always been a private person. Reading books, sports. I was a different girl. At 18, I blossomed.

"My nipples are really sensitive. They've always been sensitive, and each time I get bigger, they keep getting more sensitive and excited. I love touching my breasts all the time. It's something I do for fun. I can't stop touching my tits.

"When it comes to my tits being played with, I like a mixture of soft and rough. Soft-rough. They're so sensitive, they can't handle nipple clamps or hard biting, but I love licking, teasing. It's fun.

"I think my boobs get more attention than me! But I really enjoy the attention and wouldn't change it for anything. People looking at my chest makes me happy, and for some reason, the attention makes me crave bigger tits one day.

"I dress to show off my chest on my social media pages and in real life. Sometimes I'll wear low-cut tops and at other times I'll wear a turtleneck or something similar that completely covers my chest. As long as the clothing is tight and form-fitting, I love to wear it."