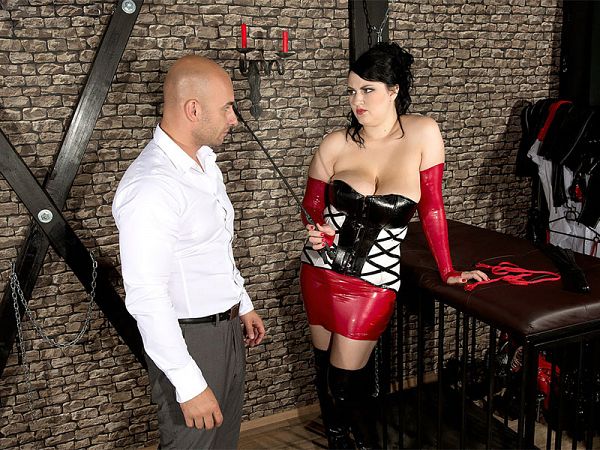 When this scene with Barbara Angel was originally released, I wrote:

"When her slave Neeo shows up late to her fully-equipped dungeon, she digs into him for his tardiness. But Neeo is done with this charade. It's the revolt of the slave, and top-heavy Barbara is about to be toppled over in a dirty game that Neeo has planned."

Barbara is a Czech girl-next-door with huge, natural tits and a happy, smiley personality. A sweet girl, she works in an office and was curious about porn, so she contacted an agency. Her giant breasts opened the door to our studio. She usually has a real-girl appearance and style, so dressing up like a dominatrix and doing a hardcore scene in an actual S&M dungeon was very much outside the box...or whatever they keep slaves in.

Neeo is a veteran porn dude, and he has a rep for totally controlling girls in every way in his scenes. So it was a given that he would turn the tables on Barbara, something she didn't mind at all. She was supposed to boss him around. That didn't last long.

He got to place Barbara on the B&D furniture and appliances and fucking pound the living hell out of her. And she liked every second of it. I think he gave her the biggest load of cum she ever got in any of her TSG scenes, shooting right into her open mouth. This might be her all-time hottest, nastiest hardcore scene.