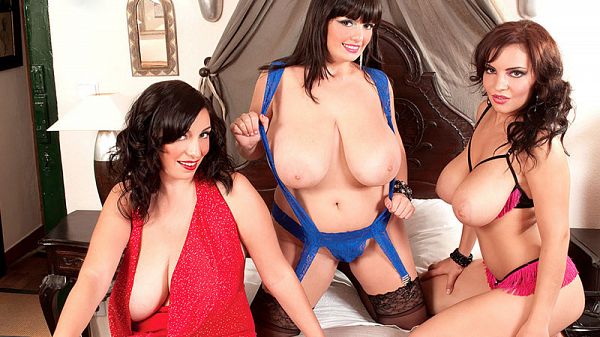 Big Boob Finishing School is a multi-girl feature film starring Michelle Bond, Arianna Sinn, Lana Ivans, Sophie Mae, Valory Irene and Eden.

Admittedly, the plot of Big Boob Finishing School is a bit unlikely. Arianna, Sophie, Eden, Valory and Lana all have huge, natural racks, but they can't keep a boyfriend.

Kind of stretches belief, doesn't it?

Anyway, they go off to Portugal and enroll in Michelle's finishing school, in which Ms. Bond teaches them how to become the ultimate man-pleasers.

Like they aren't already, right?

Of course, they all graduate with honors.

In this scene, Michelle is giving Lana and Arianna personal instructions. She's teaching them how to be a porn star in the bedroom. She's going to teach them how to wake up a man in the morning: with a blow job, of course.

One of the more-amusing moments comes when Michelle has Lana play the man and Arianna says things like, "Oh, honey, can you fuck me now? My pussy needs you." Lana continues playing the role of the man as she fucks Arianna with a strap-on while Michelle continues her instructions.

It's a great scene. The fact that Lana already fucked on-camera and Arianna was about to fuck on-camera is beside the point. Try to get that out of your mind as you watch this scene. Just believe.
See More of Michelle Bond at SCORELAND2.COM!