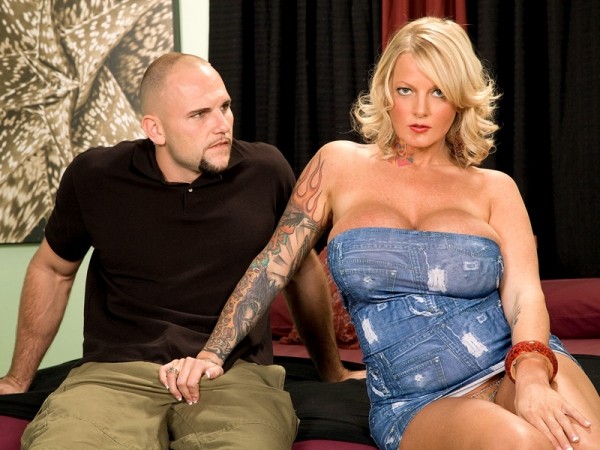 What's the first thought that pops into your head a few seconds into this SCOREVideos.com scene starring Sabrina Linn?

Is it, "Who is this wildin' out, freaky-deaky, porn-loving, slutty-looking, bad-ass?"

Sabrina is a Texas mom who found SCORE at BeASCOREModel.com and wanted to join in on all of the action she's been seeing and reading about. Sabrina's a real MILF, not a fake Hollywood porn MILF, and she wants to bust out her big 40GG-cup tits every which way.

As you see, Sabrina loves tats and piercings and nipple rings in the hot spots and she loves them in a big way.

"Back home, I masturbate a lot and I am a toy junkie," said Sabrina, who has a resemblance to a more mature, tatted and pierced version of Morgan Leigh. A super-bad girl version of Morgan Leigh.

"I try to masturbate daily to porn when I wake up to very sexy thoughts. I am fully-bisexual and love sex with women and men. I have sex three to four times a month. I wish I had it three to four times a day."

Banging a porn stud on camera is one of her dreams.

"I have two looks. One is as a mom in public wearing nice tops that cover my cleavage but are fitting. The other is going out in anything that shows off my curves."

A chick like Sabrina needs an experienced, hung stud. Sabrina got one in JMac who was definitely charged up by her look and style. They play tit-slapping games for starters, then her pussy gets a licking and a fingering before Sabrina goes wild on his fucking dick for a sloppy, gooey, throat fucking and tit-banging.

The slam-bang action never lets up and Sabrina gets into a hard-ramming fuck and a facial with cum-swallowing. Sabrina clearly loved being on the receiving end of raunchy, cunt-pounding, porn-sex. Our kind of woman.

We figured that Sabrina would be hit up by every porn studio in North America but her only interest was in SCORE. She never went the rounds of every porn studio in Los Angeles. We feel blessed.