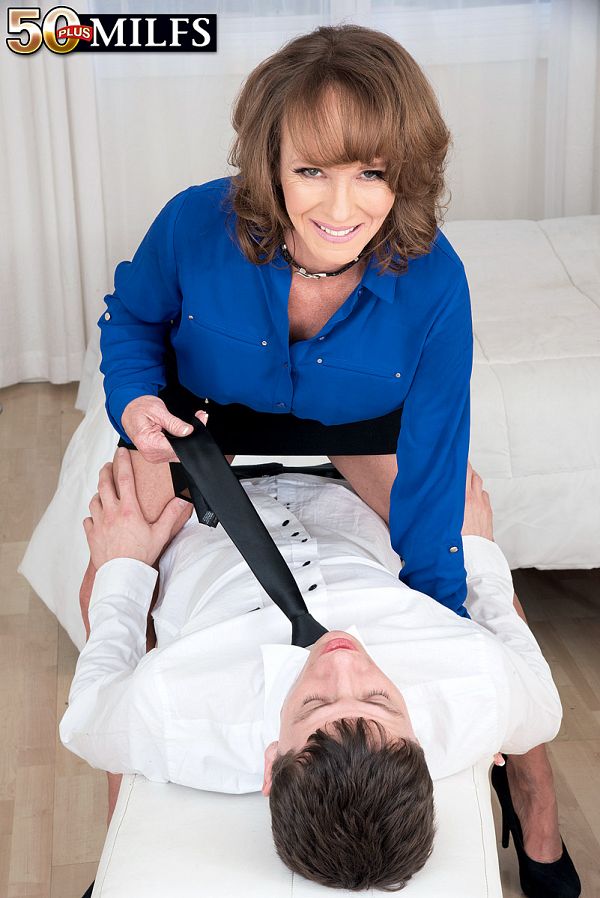 Rion, who is 26, is at his girlfriend's house, having fucked her the night before under her mother's roof, when he stumbles upon Mrs. Sinclair's pleasure chest of toys. A whip. A paddle. A glass dildo. No wonder his girlfriend is so kinky. She got it from her mom! Well, Rion finds out exactly how kinky and wild Mrs. Sinclair is when she walks in and catches him snooping.

Some women would tell Rion to stop sticking his nose where it doesn't belong. Some women would get embarrassed and kick the kid out of the house. But 50-year-old Cyndi isn't like most women. So she sucks his cock. She has him fuck her pussy and asshole. Because that's what she likes. Actually, she likes a lot of things.

"I'm into BDSM," Cyndi said. "I was actually a collared sex slave for five years. I did a lot of mainstream training for that. I saw a video and that got it all started. I got really curious about it. I thought I was more of a sadist but it turned out I'm a masochist because I like the sensations. The gentleman I was with turned out to be a master who was associated with a dungeon in Las Vegas, so I went to Las Vegas for five weeks for an intense training program. There were 10 slaves and 10 masters. And each person would have several different masters. You weren't allowed to speak for five weeks."

We asked Cyndi if she thinks that experience changed her, and she said, "Absolutely. It gave me more of a perspective on other people and how they react to things. But this was a long time ago. Almost 30 years."

And now she's doing this.