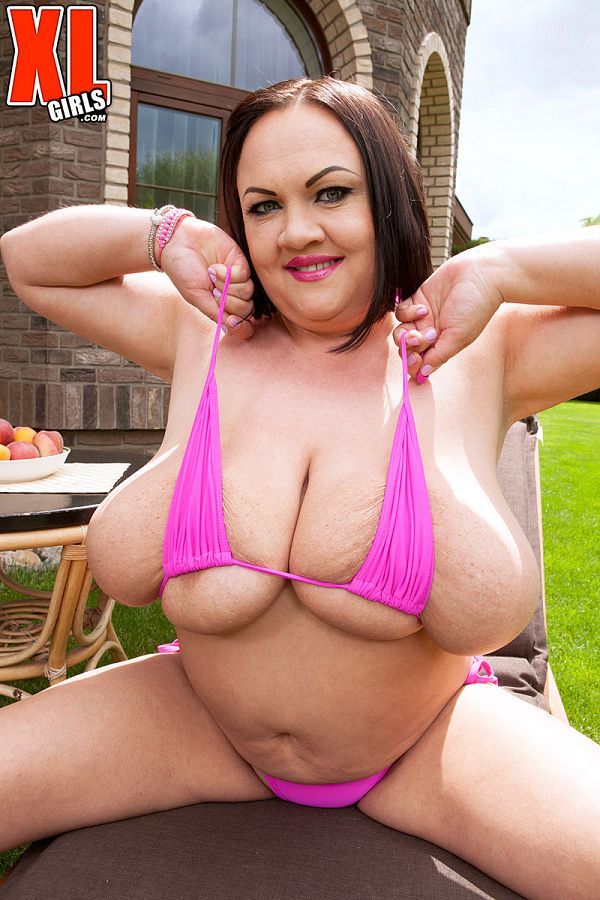 Natascha Romanova is a bikini buster in every meaning of the phrase. Natascha didn't say what kind of swimsuit she wears when she goes to the beach or outside to sun herself. If she wears a bikini like the one she does here at XL Girls, she must meet a lot of men wanting to be her new friend.

"I dress to show off my big, beautiful breasts," Natascha said. "Even women look at me. I like the attention so it is no problem.

Natascha has both white lotion and oil to protect her tender skin from the sun. She rubs the stuff in liberally, coating her giant tits until they're dripping.

Natascha fondles her boobs, something she loves to do. "I do that often and I masturbate often to satisfy myself." After she makes her tits happy, she fingers her oily pussy. She rarely plays with her pussy outside so this experience was a thrill for her. "No one was spying on me, I think. I didn't see anyone. I hope everyone likes the pictures and the video as much as I liked making them."