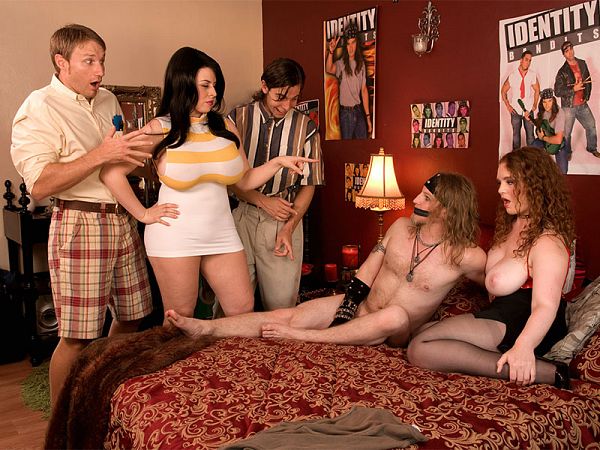 In the SCORE feature movie Boob Science, two total losers at bagging pussy, Dexter and Sheldon, have created superwoman Mandy (Daphne Rosen) in the privacy of their bedroom by using computer equipment and dark science.

Mandy can make all of their dreams come true. Sheldon, Dexter and Mandy cross paths with Sheldon's asshole brother Troy, a wannabe air-drumming, long-haired rocker. He starts an argument in the hallway.

"Who's the doll?" Troy says, eyeing Mandy. "Hey sweetheart, what street corner did these fruitcakes pick you up on? I can't believe you brought a hooker into the house. Mom and Dad are gonna rip you a new one!" "That's no way to talk to a lady, buster!" Mandy says.

"Hey, you ladies know my girlfriend Kimberly," gloats Troy. Stacked and busty redhead Kimberly (Contessa Rose) comes over and the two begin a disgusting make-out session to irritate the trio. He smacks Kimberly's ass and guides her into the bedroom. She giggles. "S'cuse me, ladies and whore friend. I got man-slut work to do."

That really gets Mandy angry so she teleports the trio into Troy's room and zaps him bound and gagged to a public beach. Then Sheldon takes his brother's place on the bed with Kimberly, thanks to Mandy's magic. "You're a hundred times the man your brother is!" Kimberly tells him and shoves her huge tits in his face for starters.