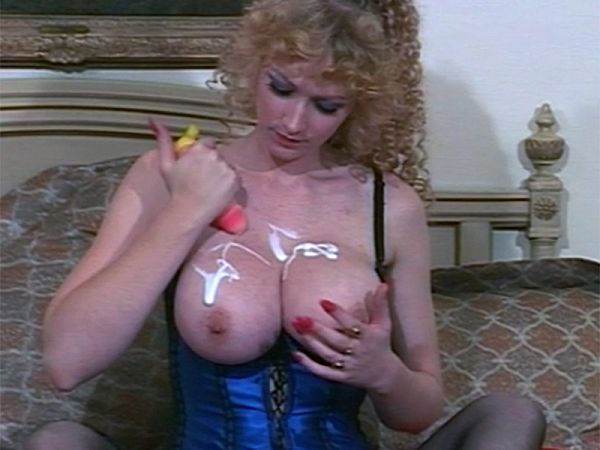 Brandy Boom Boom began exotic dancing in 1989 after entering a wet tee-shirt competition. She enjoyed the attention and the bucks so much that the decision to do more was easy.

Brandy was originally from Nevada eventually relocating to Wisconsin. By 1992, she was traveling cross-country, appearing in clubs such as The Foxy Lady in Rhode Island and The Cordial Lounge in Rochester, New York. Boom Boom enjoyed the look and style of bygone, old-fashioned burlesque so she incorporated the feathers, boas and tassels and all the other accessories of vintage exotic dancing.

In this scene, Brandy is lotions her big tits in a bedroom. The lotion dispenser is unique. She works the lotion into her skin, then spreads and fingers her hairy pussy and licks her tits. While Brandy is enjoying her personal time in the bedroom, Jessica Fox is in the bathroom. When Jessica walks into the bedroom, she sees what Brandy is doing and wants to rub Brandy's tits too.