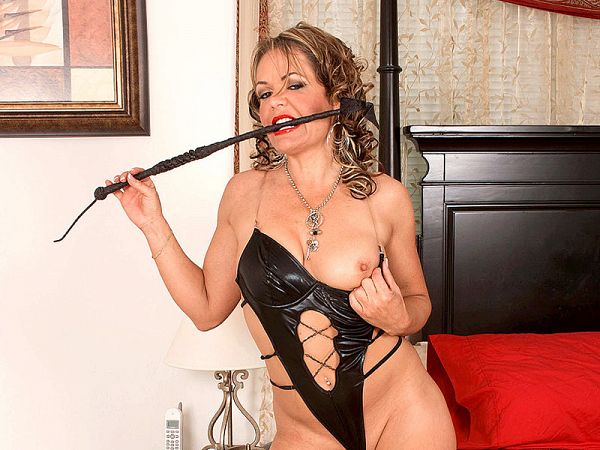 Things aren't going well for Mr. Burglar. First, he goes into the homeowner's nightstand, and dildos are all that''s there. Then the lights come on, the homeowner walks in and he's really fucked. But things are about to take a turn for the best. The homeowner is 43-year-old porn star Kelly Leigh, who's wearing red vinyl boots and carrying a whip.

"You're robbing the wrong house, buddy," Kelly says.

"Please don't turn me in to the cops," he pleads.

"Come here," Kelly says, lying on the bed and pulling her panties aside. "Eat that pussy."

Kelly pushes her head down into her cunt, and now the burglar's fate depends on his ability to eat Kelly's pussy.

"You like that old-lady pussy?" Kelly says. "Eat that dirty pussy!"

Kelly's a dirty girl, and she's been waiting to catch this guy. She sucks his cock, and while she's at it, she eats his balls and asshole, too. Kelly gags on his dick, taking it as far down her throat as she can, then lies back for a deep fucking. Can you guess what's going to happen next? Is there any doubt that Kelly's going to have him fuck her ass, too?

"Nice load," Kelly says as she wipes his cum off her face. As crime deterrents go, we're not sure she has the right idea. But we love her spirit.