"What I do now is the best," said Shannon Blue, a divorcee from Birmingham, England who made a splash in the UK tabloids when she used part of her divorce settlement to super-size her tits. Judging by the size of Shannon's rack, she might have used all of her divorce settlement on her breasts. They're MM-cups, making her one of the bustiest MILFs we've ever featured.

"I wish I had done this sooner," Shannon said.

A lot of women tell us that. No worries. We're glad Shannon decided to do it, that she decided to make a change in her ho-hum life, dumped the asshole she was married to and fucked on-camera for all the world to see at 53 years old.

"I want to have sex every day," Shannon said. "Now I'm always looking for new things to try. I would like to try a gangbang. I think it would be fun."

Shannon is having fun in these photos. She's a busty boss who's meeting with one of her male employees. But the meeting takes a sudden turn when they get a little too close while looking at some documents. Before long, Shannon is sucking her employee's cock and getting her pierced pussy banged on the corporate couch. Then she jacks him off onto her tits.

"I don't have any special talents," Shannon told us, "but who needs a talent when you have large breasts?"

Exactly.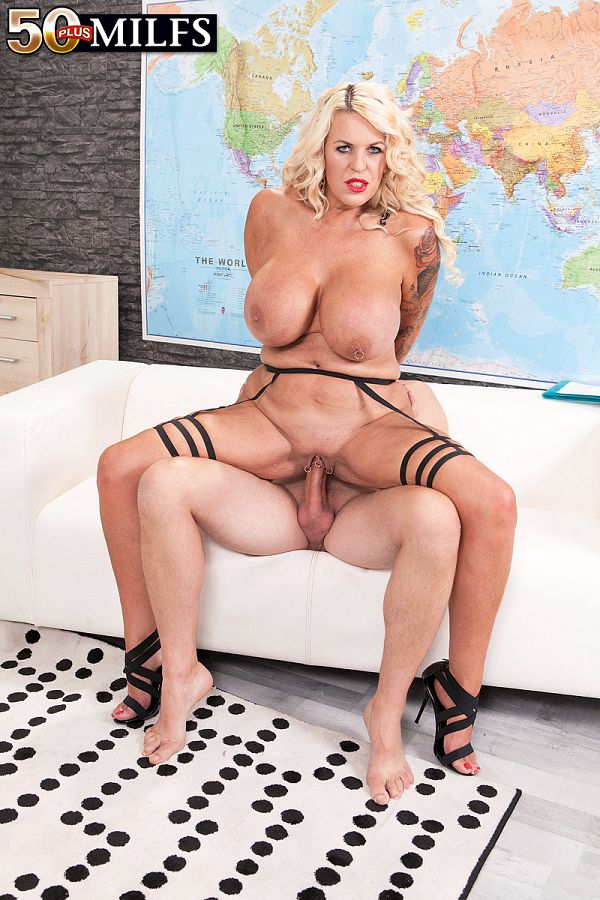 See More of Shannon Blue at 50PLUSMILFS.COM!