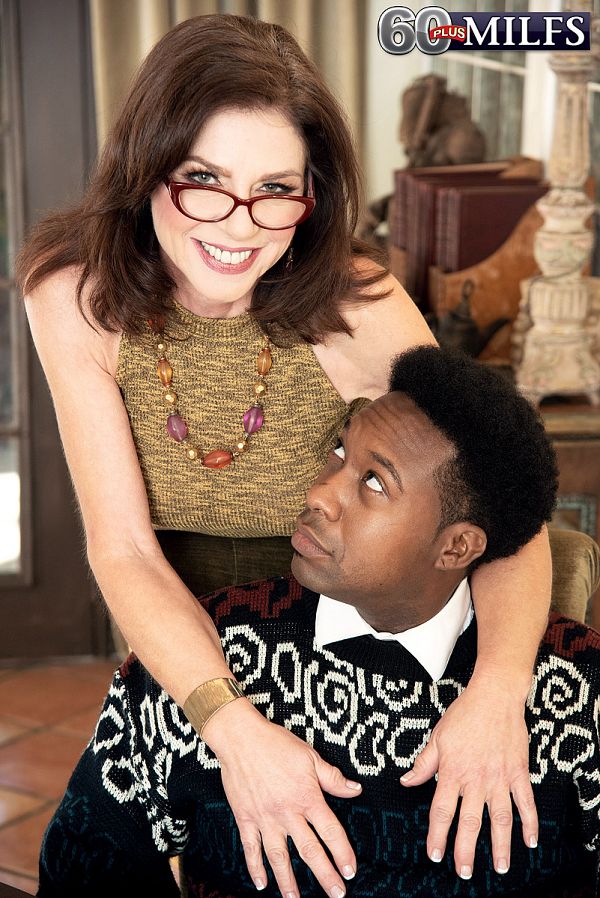 Jack is studying for his final exam when Cashmere walks in, wearing glasses, looking a bit studious herself.

"You're a hard worker. Do you ever take a little break?" she asks him.

"Not really," Jack says. "I'm really focused on getting into this university."

"I understand that," she says, "but you know, sometimes you need a break."

And exactly what kind of break does this 60-year-old divorcee and mom have in mind? Maybe Jack should go out with his friends? Nope. Jack is a total nerd. He doesn't have many friends. No girlfriend. Doesn't play sports. He likes to go to the library. Read. Study. All that fun stuff.

But Cashmere is going to loosen him up a little. She's going to show him some relaxation techniques. Among those techniques: sucking and stroking his big, black cock. Having him fuck her tight GILF pussy. And letting him unload his tension--in the manner of a big load of cum--all over her pretty face.

And now Jack is really ready for that university: He's definitely smart enough, and now he knows, because Cashmere taught him, how to fuck. Hey, there's more to college than just studying, you know.

But there's just one thing: Now that Jack has had a horny, mature woman, he's not going to want to fuck his fellow co-eds. He's going to want to fuck his female teachers. Nothing wrong with that!
See More of Cashmere at 60PLUSMILFS.COM!