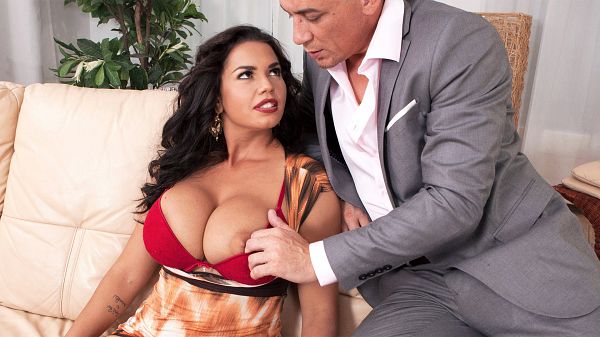 Buxom Chloe Lamoure has furniture to sell. Who would say no? She could sell electric blankets in the middle east. Steve drops by to check out Chloe's stock but her stacked rack diverts his attention. Is this any way to start a fuck scene? You bet it is. Only in the movies. Steve wants to find out if the furniture is cum-stain resistant. He and Chloe will find out because Steve drives a hard bargain with pretty girls.

Steve sits next to Chloe on the couch and lowers her dress so he can pull her big, sexy tits just a little bit out of her bra and pull on her nipples. He takes his cock out of his pants, already bloated from just being next to this smokin' hot doll. Chloe smiles and murmurs her approval, taking dick in hand and leaning forward to engulf it with her pretty mouth and give it loving laps and licks. Chloe gets so engrossed in her oral negotiations with Steve that she doesn't care if any other customers walk in. Now, that's the key to sales success.

Steve goes down on Chloe, now on her back, and licks her pink spot and her large clit. Chloe feels the waves of pleasure flooding her shapely body. Steve spreads her legs wide and tongues her sweet honey-hole while Chloe studies him.

Legs wide open, Chloe gets dicked-down, her tightness spurring Steve on to fuck her in different positions. This couch is really holding up well to their pounding. Then Steve zeroes in on Chloe's lovely ass. She's a girl who enjoys anal sex.

"I love it," Chloe told us. "In the beginning, it was strange for me. Then I started to love all of it. I love long anal play."

When Steve thrusts in and out of Chloe's butt on top of her, she furiously rubs her clit. The sight of Chloe's fuck frenzy throws Steve off the cliff. He shoots his ball-sauce on her tush-hole as Chloe smiles contentedly. Steve has found the girl of his dreams and also seems pleased with the quality of the furniture.
See More of Chloe Lamoure at SCORELAND.COM!