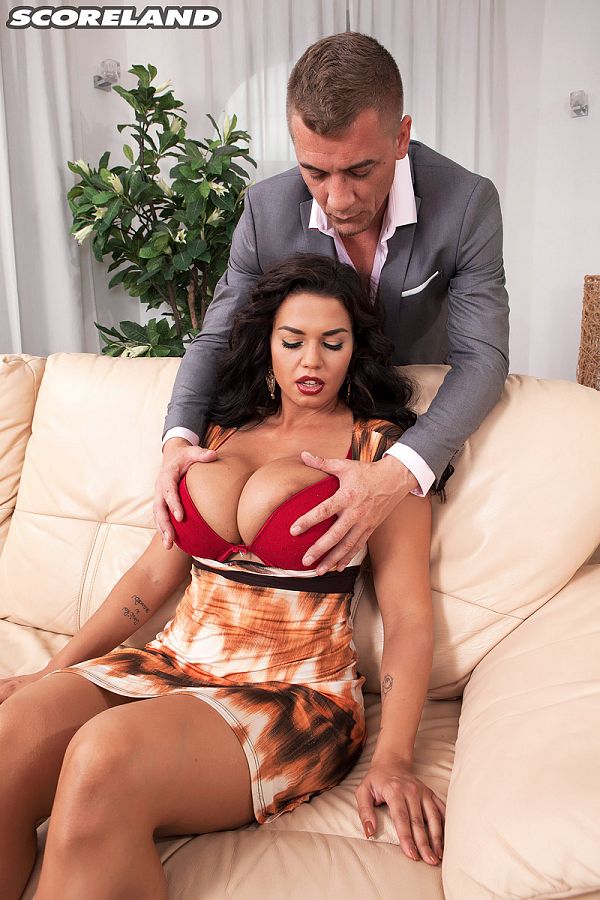 Steve is checking out furniture for sale but is more interested in checking out shapely sales clerk Chloe Lamoure. She's much better built and has a hotter body than any sales clerk in the entire city. The showroom is empty. Steve makes his play.

Will this couch be able to take the stress of a couple fucking? Is it cum-stain resistant? Many questions that need testing. Chloe is game to play. A girl so sexy that she could sell ice makers in Antarctica.

Steve takes just a little bit of Chloe's big boobs out of her bra so he can finger and tug on her pert nipples. Going for broke, he pulls his boner out of his fly. He's been stiff since he saw this babelicious, busty beauty. Chloe's eyes light up. She takes cock in hand and gives Steve the heavenly head he's wanted since he walked in.

Spreading Chloe's legs apart, Steve dives for her pink box and big clit. She studies him as he eats her out and makes her pussy wet, nice and slick for fucking.

Chloe loves to get dicked-down in her ass. It was strange for her at first. Now she's into backdoor boning. Steve fingers Chloe's butt, then fucks it. Chloe goes wild. She screams and moans, rubbing her big clit to give her more intense pleasure as the cock pistons her. Furniture shopping is usually not a horny experience...unless you meet a girl like Chloe.
See More of Chloe Lamoure at SCORELAND.COM!