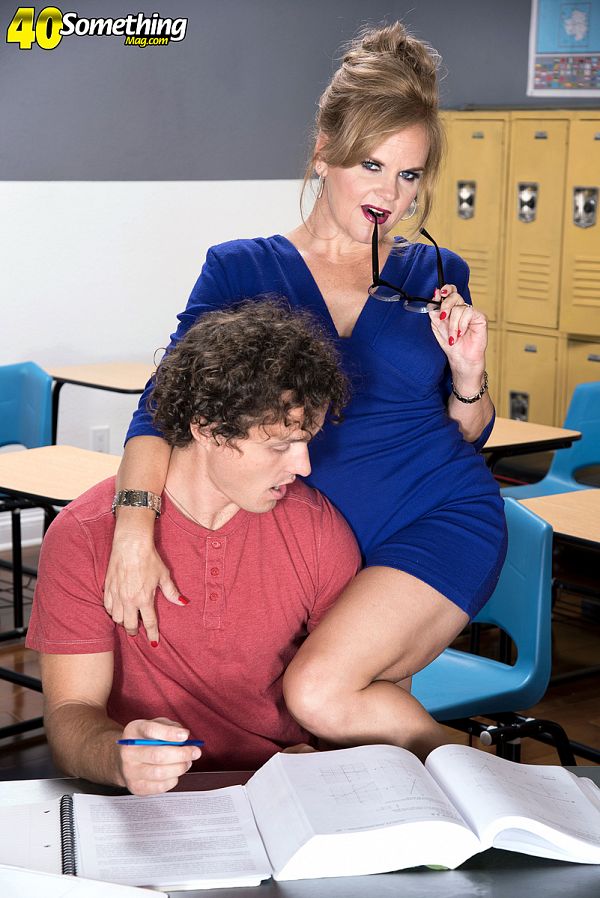 Micky Lynn, a 45-year-old mom and swinger, returns as a teacher who sucks and fucks her student right there in the classroom. Micky shot over 200 porn films in the 1990s and early 2000s before dropping out of sight, and we're glad she picked us for her return.

"I started in the business when I was 18 at the fantasy booths in New York," Micky said. "From there, I went to dancing. From dancing I went to porn. From porn I went to magazines. From magazines I went to feature dancing. And I've actually owned my own adult boutique in West Palm Beach. And then I tried my own Passion Party company. Now I'm back. I'm starting all over again. It's recycling. It's the older and mature Micky Lynn. When I left the business, I was young, skinny. Well, I'm still skinny. But I was naive to the situation. Now I'm more mature and I know what's going on."

She knows what she wants. She's glad to be back.

"I would like to bring back the older '90s type of style where it's more for couples," she said. "Right now, I don't know what's out there so I've got to do my research. Like I said, you guys are my first. But I'd like to bring the old style back where it's not like what's the craziest thing you can do, it's what can I do to pleasure you. I want your wife and you to be able to sit there and enjoy it.

"I was a little slut. I like to be slutty. I like to be naughty. I take things to a certain degree when I'm comfortable, and that's what they need to know. They need to know that sex is not bad, but you have to be careful of what you take and what you accept. You have to respect yourself. When you get older--because we're all getting older--you want to have your body intact. That's what I want to bring to porn."