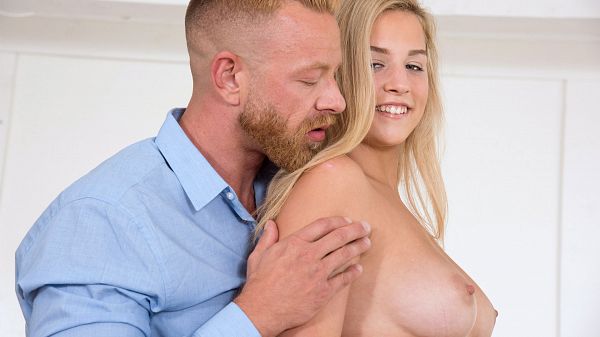 Age: 18; Born: September 12; Ht: 5'8"; Wt: 145 pounds; Bras: 34C; Panties: Thongs; Anal: Maybe; BJs: Swallow; Masturbate: Yeah!

Wannabe actress Sophia moved to California with a dream of being an A-list actress. She might have the chops, but we're not focusing on her acting skills. We're focusing on her beautiful tits and ass as she pleases one of our hung cocksmen.

"When I was debating whether or not I should do porn, I asked my best friend. She told me to go for it. She's a lesbian who has been trying to get into my pants for years, so I think she encouraged me to do it just so she could see my pussy! Well, Ashley, here it is!

"Growing up with unlimited access to Internet porn was weird. I remember one time the boys at school were talking about looking at porn and it piqued my curiosity, so I went home and searched for things that turned me on. Originally I looked for lesbian porn; just a bunch of kissing and breast massaging. Later on, I found out I like the idea of gangbangs and gloryholes. I never had to question what turned me on, it was just always there."
See More of Sophia Lux at NAUGHTYMAG.COM!