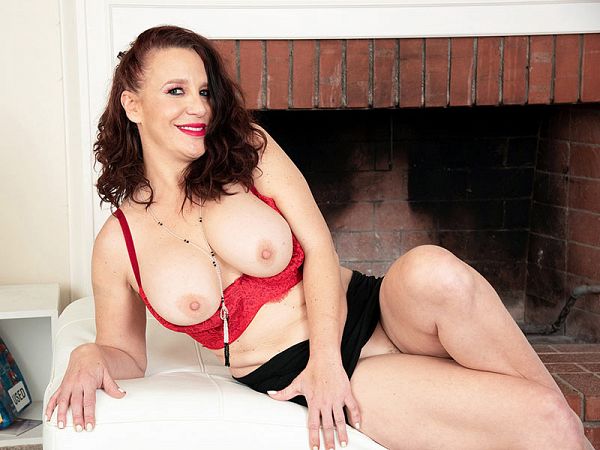 We know you know how to jack off. Cora Comfort, a 46-year-old divorcee and first-timer, knows you know how to jack off. But, you see, Cora loves to talk dirty. It makes her horny and wet, so when this scene opens, Cora is giving you some J.O. encouragement.

"I want to tell you how to arouse that cock of yours," she says. "First get something slippery and get it all ready for me. Get it hard and wet and ready for entry. Tease yourself. Get it nice and hard, just as I like it. Stroke it up and down."

Cora is wearing a red sweater, but not for long. We soon find out she's wearing a red bra, and that red bra is encasing a nice, big, juicy pair of tits. And then it all comes off and Cora is spreading her slightly hairy pussy and fingering her asshole.

Very obviously, Cora does not need to be told what to do. Yeah, she's a first-timer, but she knows her body well.

"I self-pleasure," she said. "I don't like the word masturbate. I have a practice of self-pleasure, and I do it every day."

By the way, there's a reason Cora spends so much time pleasuring her tightest orifice.

"I love anal sex," she said. "There is a way that hits my G-spot that really can't be accessed through vaginal intercourse."

Will Cora get ass-fucked this week? No. Will she get ass-fucked at 40SomethingMag.com? Definitely. Just you wait.
See More of Cora Comfort at 40SOMETHINGMAG.COM!