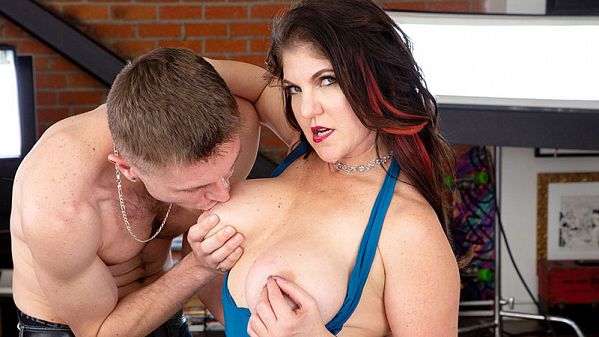 We knew we wanted to shoot Coralyn Jewel the minute we saw her test shots. Most prospective models send in the shots we ask for: head-to-toe front, side and back. Nude, of course. Coralyn did that. But she also sent in shots of her showing off her hot body in a very provocative way: spreading her pussy, showing off her ass, even climbing on top of a picnic table in her backyard and getting on all fours with her ass in the air, pussy and asshole on-display. They were among the most-jackable test shots we'd ever seen.

We wasted no time getting Coralyn to our satellite studio in Los Angeles. That was easy. She lives in L.A. This past Tuesday, we got to know this 43-year-old divorcee for the first time. And today, she's sucking and fucking, taking AJ's young cock in her mouth and tight pussy. He sucks her beautiful tits, eats her shaved pussy and cums all over her face. As first-time XXX scenes go, this one is red-hot. The heat between Coralyn and AJ is apparent. They're very into each other.

And keep in mind: Coralyn, who's 43 years old, was born in a nun's convent in South Africa. She got out of there in a hurry!

More about Coralyn: She was a competitive figure skater when she was a young girl and wanted to be on the South African Olympic team.

She has been divorced for 12 years.

She's an event planner. Mostly weddings.

She's a swinger. After she got divorced, she started working at a swinger's club. She started her own club in 2012 and now has over 18,000 members. Impressive.

She's into men and women but prefers men. She doesn't care what you look like as long as you're a gentleman (or gentlewoman) and can get her off.

In this scene, she gets off many times. And by the way, Coralyn, thanks for those test shots!