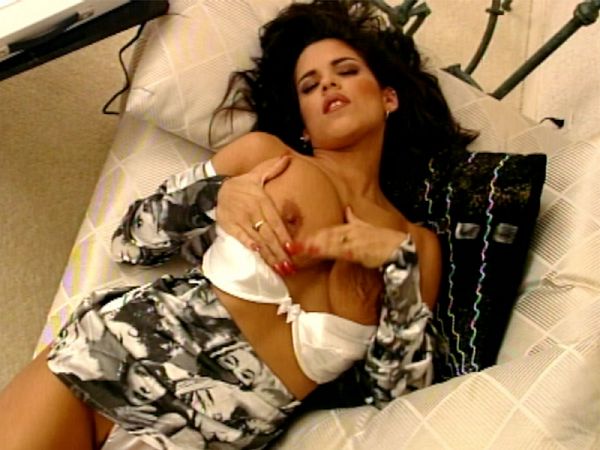 Loupe in hand, Coree Monroe examines a SCORE set of transparencies on a light box and gets turned-on. She fondles her slim and stacked body and stuffs her pussy with a big toy. Coree wouldn't have made a good photo editor if she had to stop and masturbate on the job. Better that she modeled and danced for a few years. The girl-girl set she's examining is a scene with Danni Ashe and SaRenna Lee. Coree herself would do a poolside photo shoot with SaRenna.

Coree began dancing in 1995 at a club called Zonkers in Daytona Beach, Florida. She was on vacation at the time. Coree, who's from Boston, moved to Nashville, Tennessee and danced at the Deja Vu club. Traci Topps danced there for a week as a visiting feature, and after meeting Coree, introduced her to the director of photography at SCORE.

"Traci had the biggest boobs I'd ever seen," said Coree. "I would watch her shows when I had the chance. I knew she was a famous magazine model and I wanted to know how to get into that with professional people, safely, without any headaches or problems. Traci was very nice and helped set me up with SCORE. I was nervous about talking to her but Traci was so nice! I'd told my friends I was posing naked for SCORE and they were like, 'Nooo! I can't believe it. That's not you.' I told them, 'Don't be so sure. Every woman can do it.' You just have to want to. Believe me, I do."