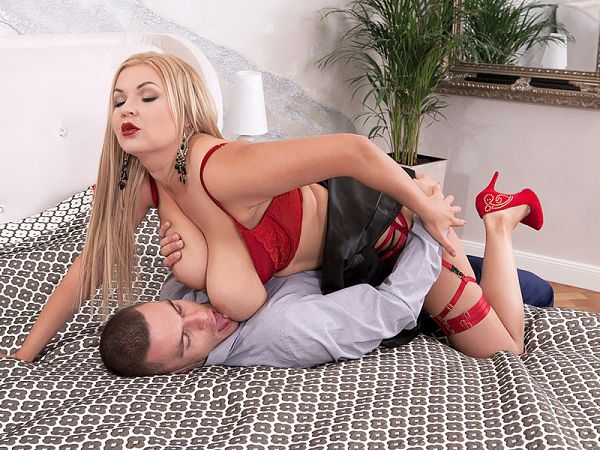 Big-boobed and bodacious Diana Frost is dressed to produce boners. Fully dressed in a tight, low-cut top, bare at the midriff, and a black mini-skirt, Diana adjusts her unusual lingerie, checking herself out in the mirror. Her thong panties have a zippered crotch and her strappy red garters are the kind a Leg Sex magazine model would want. She walks into the next bedroom where Max is waiting.

Diana hovers over him. Smiling, she lies on top of Max and covers his face with her big, natural tits. He's been anxious to suck on them since they first met. After he has had mouthfuls of Diana's pointy nipples, she sits on his face. He unzips her thong panties and buries his tongue in her pretty pussy.

Diana plays with her boobs as she's being eaten out. She glances into the camera occasionally. This is her first hardcore scene and she had never modeled before. Not even by herself.

Diana said she loves having her pussy licked. She changes her position on top of Max to a 69 so she can suck his dick while he tongues her. Even when she sucks his dick, she glances at the camera.

Now down to stockings and heels, Diana kneels on the bed in front of Max, cupping her breasts. She's in classic tit-fucking position, leaning forward to catch his cock head in her mouth. Max shifts Diana around, placing her on her hands and knees, her ass in front of him. She waits for him to slide his dick into her tight pussy. He rubs his dick over her pussy lips and shoehorns into her slowly. Her moans fill the room as he builds up pumping speed. Diana goes with the flow and forgets the camera is there as they enjoy different fucking positions.