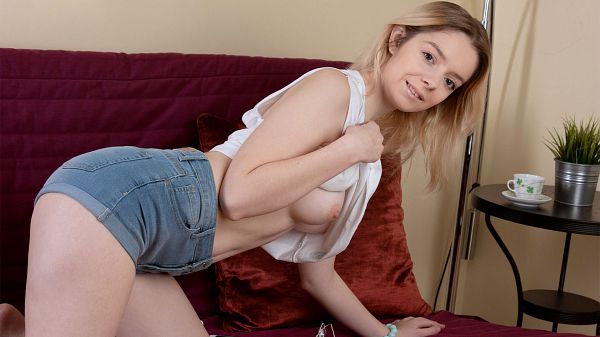 Occupation: Dog walker/sitter; Age: 21; Born: October 30; Ht: 5'2"; Wt: 108 pounds; Bras: 32B; Panties: Whatever is comfortable; Anal: Licking sometimes; BJs: I've never swallowed; Masturbate: Once a week.

Infanta is a cutie who looks younger than 21, and that's fine by us. We'll print pics of any amateur beauty 18 or older! Infanta told us that she has always looked younger than her age. "In school, I would always wear too much makeup to look older. Now I like how young I appear.

"I keep my kitty completely hairless. It looks cuter and cleaner that way. Plus, I love how wet and smooth my pussy gets during sex when I don't have even a bit of stubble. I always shave before dates just in case I get lucky."

Infanta informed us that although she is comfortable being naked, she was nervous about shooting these adult photos. "I don't have much experience," she said via email. "All of my friends have had way more boyfriends. I don't know why, but I don't get a lot of attention from men. It might be because of my youthful appearance. I find older men very sexy, but they don't seem to find me pretty."