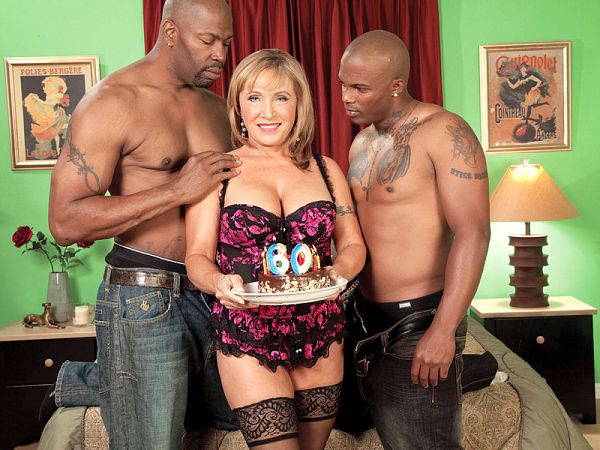 Swinging divorcee Luna Azul is celebrating her 60th birthday, and Lucas Stone got her a cake and is singing her the birthday song. A woman has never looked so happy about turning 60. She's beaming!

"I knew you like chocolate, " Lucas says.

"Oh, my favorite," Luna says.

"And I've got a nice gift for you, too," Lucas says.

Jewelry? Perfume? A new car? Nope. A new outfit for fucking.

"We're just gonna have to break it in," Luna says. Lucas helps Luna put it on, but then her real birthday present shows up: Lucas's friend Piper!

"Oh, my god!" Luna says, barely able to keep her mouth off their cocks. But she doesn't resist for long, and before long, she's a double-stuffed chocolate MILF.

"Every woman should have a 60th birthday like this," Luna says. "I loved having their big, thick cocks in my mouth and pussy. Thank you for my birthday present!"

You're very welcome, Luna.