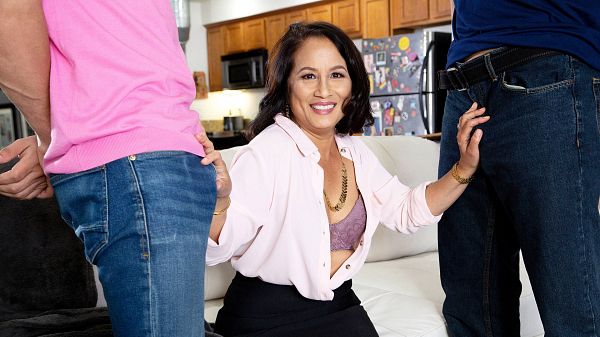 When 59-year-old Maya Luna comes home from work, she finds her step-son, Jack, and his friend, Gio, sitting on the couch, playing video games. Maya is dressed in a sexy business suit: white blouse, short skirt that shows off her nice legs, heels. She's happy to see her step-son, but she seems even happier to see his friend. In fact, she's a bit touchy-feely with him.

Maya talks to the boys for a bit, and when she walks away, Gio asks, "Is your step-mom flirting with me?"

"I don't think so," Jack says.

"Yeah, she was," he says. "It's a little bit weird but it's a little bit cool at the same time."

Jack's a bit disgusted, but when his step-mom comes back, she's touch-feely with Gio once again, flirting with him. Seducing him?

"I can fix something for you," she offers.

"What do you have?" Gio says, knowing what he wants.

"I have something for you," Maya says, knowing what she wants.

Jack can't believe what he's hearing. What's his step-mother doing?

Well, in the kitchen, she's bending over, putting something in the oven, and looking over at Gio, who can't keep his eyes off of her. Then she starts flashing herself a little. Does Maya want him? Damn right she does!

Gio goes to the kitchen, where Maya gets down on her knees, unzips his pants and starts sucking his cock, right there with her step-son sitting a few feet away!

"That's my step-mom!" Jack says when he sees what's going on.

"I couldn't help myself," Gio explains.

"I'm just your step-mom," Maya says. "You can play, too."

Well, she's right about that. Step-mom isn't mom; step-son isn't son. At least legally it isn't. And before long, Maya is sucking her step-son's cock! Then her step-son and his best friend are taking turns on her pussy and then...they're DPing her! Her step-son is in her pussy and his friend is in her ass at the same time!

Maya is from the Philippines and now lives in Los Angeles with her husband. When we asked her if she'd ever had sex with a much-younger man (other than for us), she said, "Yes. My gym instructor. I knew he liked me, and he invited me to take a swim, so I went. We started touching and kissing and did it in the pool and in the shower."

That's one thing. Getting DP'd by your step-son and his buddy is another thing entirely.