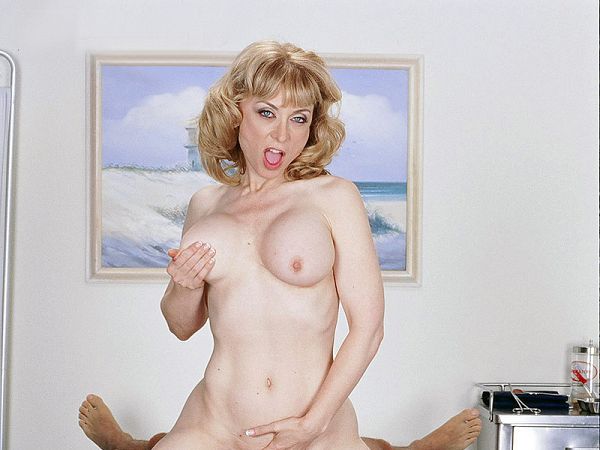 This is what happens when you have a doctor who's a famous porn star. Most doctors will just fuck you on the bill. Dr. Nina Hartley will fuck your cock. She'll suck it, too, of course. The dude in this scene had no idea he was in for the time of his life when he went to the doctor and found out that the legendary Nina Hartley would be-ahem-handling his problems.

Nina is one of the most-prolific porn stars in history, having made over 650 films at the time she visited our studio.

"I grew up in Berkeley, California," she said. "I was very active in the drama department in high school. I came of age during the last time sex was considered to be, overall, more positive than negative. I was very shy sexually, though my mind was full of sexual thoughts. I snuck into my first porn movie when I was a senior in high school and was transfixed. I knew at that time I wanted to get into sex performance.

"I started dancing in 1983 as a way to live out fantasies, perform, meet other bisexual women and as a fun way to earn money. I wanted to live a sexually free life and to have sex without being in love. For me, sex has been my vocation, my meal ticket, my path to happiness and self-understanding. I always get the most out of every sexual experience."
See More of Nina Hartley at GRANNYGETSAFACIAL.COM!