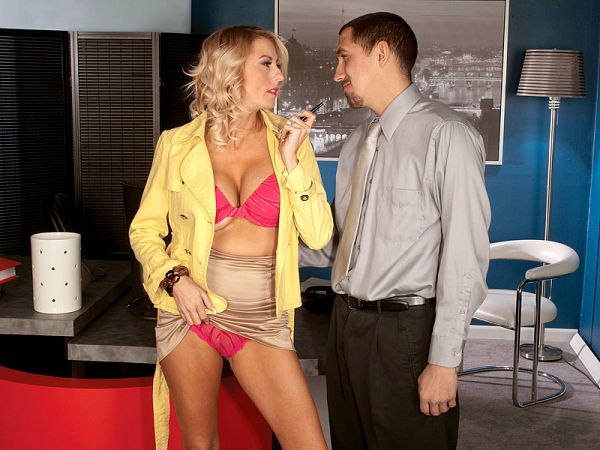 Dallas Diamond is sitting at the desk of her travel agency. The phone rings and she answers it. It's a client, but she seems distracted. And she is. Why? Well, it turns out Dallas is distracted because her male business partner is eating her pussy while she's on the phone. Good thing she wasn't sucking his cock! But don't worry. That comes later, at around the four-minute mark.

Dallas is a 41-year-old divorcee from a tiny town in Central Florida. She's 5'8", 132 pounds and has blonde hair and nice tits. We probably wouldn't go to her for vacation advice, but we'd definitely go to her for a blow job and fuck.

"My ex-husband would be very upset if he saw this," Dallas said. "He used to be really against porn mags. He wouldn't even shop in stores that sold them. Imagine if he found out that his ex-wife not only liked them, she was in one, showing her goodies for everyone to see!"

Confession No. 1 from Dallas: "I hope he does see this. I'm sure he'll call me and flip out over the phone."

Confession No. 2 from Dallas: "It's too bad he didn't like these magazines when we were married. It would've been nice to see him show a little interest in sex. Maybe if he'd spent more time fucking me and less time complaining about the corruption of family values, we'd still be a family."

Confession No. 3: "It used to get me wet hearing him complain about magazines like 40Something because I'd be sitting there thinking, 'If I could pose in one, I would.' And now I am! And not only that, I fucked a total stranger for a video! You know what? I'm going to make sure my ex-husband finds out. I'm going to show this to him!"
See More of Dallas Diamond at YOURMOMLOVESANAL.COM!