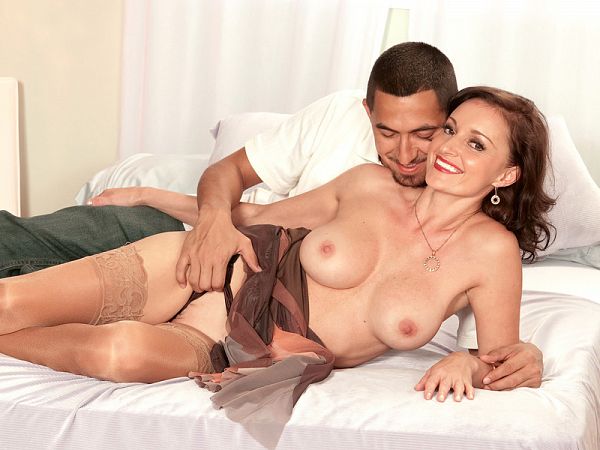 Nastaya Simmons, a perky-titted 41-year-old housewife who was born in Russia and now lives in a suburb of Los Angeles, describes herself as "happily married." She has a smokin' body: 5'4", 110 pounds, measurements of 35-26-35.

In addition to being a housewife, Nastaya is a full-time student. She says she's had sex in an elevator and on an airplane. She was 19 when she lost her virginity to her future husband. Her sexual fantasy is "to have sex on a beach or at a party and have many men." Where can we sign up?

"My perfect day is waking up to sex, then having more sex, then breakfast, then more sex, then lunch, then more sex, then afternoon sex, a nice dinner, dancing and more sex." Sounds like a lot of eating.

"I really like it doggie style and when the man holds my hair when he's fucking me," Nastaya said.

Nastaya starts this video looking very sexy and elegant, putting on her earrings, then her panties, then her stockings so we can admire her long legs, and even when she's getting fucked in the ass, she's still elegant. Well, sort of. Elegance does have its limits.