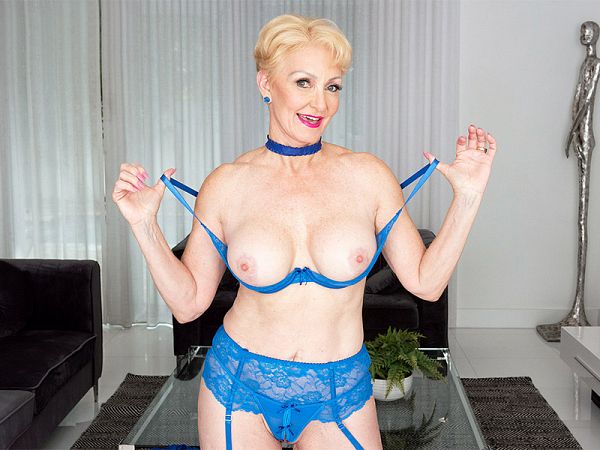 Now, it's time to get to know Seka Black, a 64-year-old wife, mother and grandmother who's ready to take the GILF world by storm. First up in this video, an in-depth interview in which this beautiful, sexy blonde tells us all about herself. Then, because she can't wait to get off, she shows us her body and fingers her pussy until she cums.

You'll notice that in the interview, Seka is wearing a man's dress shirt. The dress shirt belongs to her husband, who was sitting just a few feet away while the interview was being conducted. It looks a lot better on her than it does on him!

Seka is a mother of five daughters. She has 11 grandchildren. She's been a swinger for over 20 years and has been doing sexy web videos for a little more than two. This is her first professional shoot.

If you're wondering about her name, she got it from the 1970s/'80s porn star Seka, who was also blonde, beautiful and Scandinavian.

"I had seen her on the porn sites--my husband pointed her out to me a couple of times--and I noticed we looked very similar," our Seka said. "And she's retired and I started doing this. I love the name, I love the actress, so Seka."

The old Seka did a few interracial scenes but not many. Our Seka loves big, black cock. So that's what we gave her.