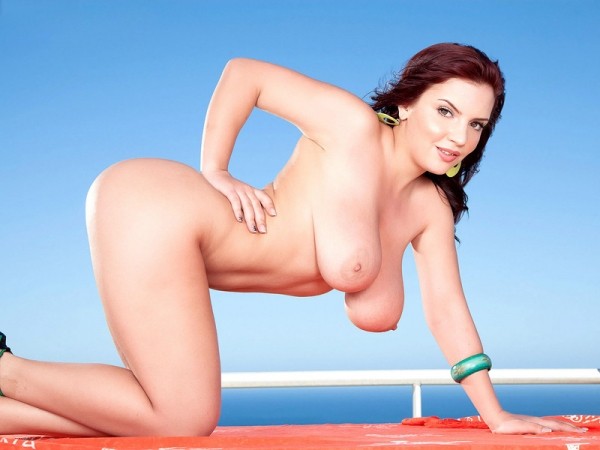 It's an old Hollywood movie cliche that eastern European girls from the Czech Republic, Ukraine, Russia, Slovenia and other countries are moody, downbeat, silent, sullen and haughty. This is a complete falsehood, a rotten lie, and I say that based on all of our real-life experiences in finding and photographing eastern European bra-busters for SCORE and V-mag.

Lana Ivans (Big Boob Finishing School, Big Tit Skinny Dip and other TSG movies) is a Romanian, and she is a feisty, fun-loving, spunky, energetic hottie. I've noticed that the eastern European girls all have the same mischievous glint in their eyes.

"I like to dance a lot. I like to flirt. I have fun flirting," tiny and stacked Lana said. "My boobs are all-natural. They look much, much bigger because I am slim." She loves teasing guys, including the photographers.

Lana keeps claiming that eating corn is responsible for her boob size. She says she eats a lot of it. My concern in relaying this information is that the price of corn futures will skyrocket once this secret goes public, but I'm going ahead and publishing this revelation anyway.

"I get to meet so many beautiful girls from many countries at SCORE photo shoots," Lana said. "It is a United Nations of beautiful girls. I have met Sophie Mae, Michelle Bond, Valory Irene, Eden Mor and Arianna Sinn, who is also Romanian. They are all wonderful."

If you're looking for a cheery, high-energy, extremely horny Euro-babe, you can't do better than Lana. Maybe the corn thing is true.