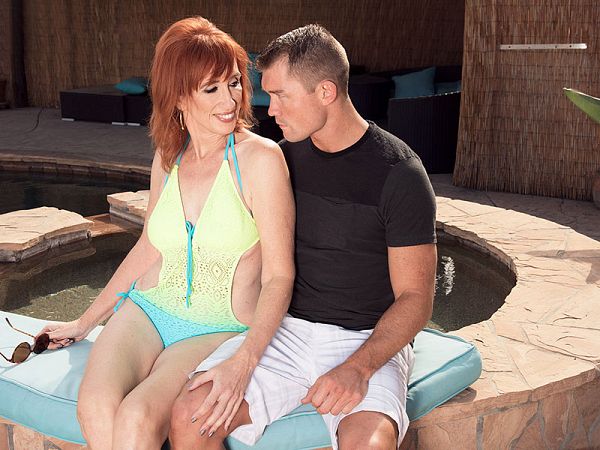 "I love to dance. I love to perform," said 64-year-old divorcee, mother and grandmother Diamond Red, who today is performing in her first fuck video. In it, she brings her man inside her house and tells him, "We have to hurry before my son gets home. I want you to fuck me really good. I want you to fuck me really hard. I want you to stick that big dick inside of me. Do you think you can handle it?"

Yeah, he can handle it. He fucks Diamond's mouth and pussy with his 33-year-old cock and cums all over her pretty face.

"I love teasing and taunting and making people want more but not giving it to them," said Diamond, who doesn't hold back here. "I've always danced. Ballet, tap, jazz, ballroom. It's just such good exercise, and because I like to flirt so much, it was just a natural progression to do this."

A natural progression for her. Not for most women. That's what makes 60Plus MILFs special. Diamond might not have ended up here if not for her friend Leah L'Amour, who suggested she do this.

This sexy redhead and her guy are swingers. One day, another boyfriend said to her, "What would you think if we brought more people into our sexual lives?"

She wasn't sure about that. "He said, 'There's a great club in Miami. You don't have to do anything you don't want to do. You can wear your sexy little clothes. It's a great place to dance. Wonderful buffet dinner.' So we went, and it was so much fun. So then we went back many more times, and over the years, I introduced other men to the lifestyle, and they all seemed to like it. I've been in the lifestyle on and off for years."

And now she's doing porn. A natural progression.