Great Moments In Big-tit Lesbian Threeways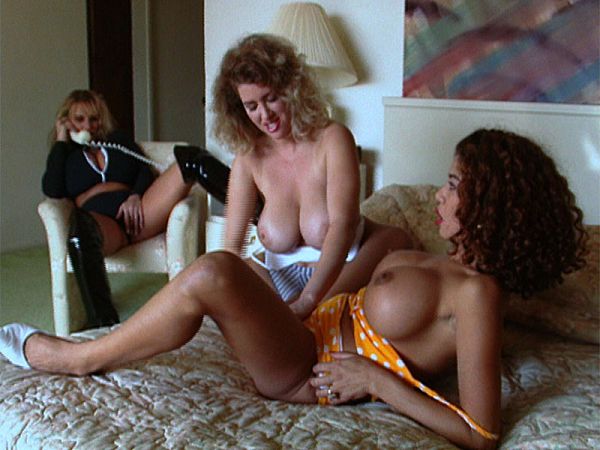 This is a rare scene of Lisa Lipps with Veronica Brazil and Sheila Stone (in the white top) from 1993. Lisa is having a meeting with the girls about a convention, then she tells them about the M.O.R. machine that she and porn actor Michael J. Cox played with in "M.O.R. Than A Woman." (The Motorized Orgasmic Response video is in two parts on SCOREClassics.)

Lisa calls Michael to give him some phone sex while Veronica and Sheila suck on a thick, realistic dildo with balls in front of Lisa. Then Veronica spreads her legs open so Sheila can fuck her pussy with it, really working it in deep. Lisa joins in and the girls have a three-way.

Veronica, who's from Rio De Janeiro, was a big name in American porn in the 1990s. She's a screamer. Sheila was less well-known but she was a busy girl for a few years in the early 90s and was also a professional stripper. When a porn director needed a big-boobed girl, Sheila often got the call.

Director John keeps the camera rolling after the girls finish. What happens next in the room is something no one outside the editing room had ever seen prior to now, as the "4th wall" disappears when the girls take a break. The girl-girl-girl action resumes as the girls go outside and continue their threeway in the pool.
See More of Veronica Brazil at SCORECLASSICS.COM!