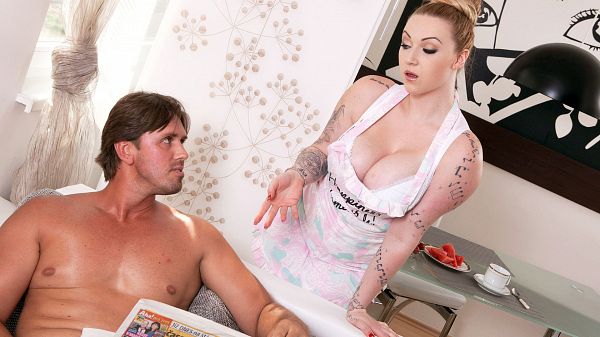 The dude in this scene is an anomaly. He has a hot babe like Harmony Reigns tending to his every need, but he ignores her. Sometimes, porn is pure fantasy. There's no way any guy, especially a guy who loves big tits, could ignore Harmony.

Well, she finally gets his attention. She sucks his cock. She tit-fucks his cock. He fucks her pussy and cums on her big tits. Harmony gets the treatment she deserves.

Speaking of cum, this British beauty said of cum, "Most of the time, I like to rub it into my face and tits. It's really good for my skin, you know!"

I'm glad she believes that. Who knows? Maybe it's true afterall.

"I like strong and confident men that are not afraid to throw me down and give it to me hard," she said. "I like a little sweetness and sensitive side too but not too much!"

The most-sensitive part of Harmony's body? Her lower back.

"Touch me there and I tingle the most," Harmony said.

She makes us tingle all over.
See More of Harmony Reigns at SCORELAND2.COM!