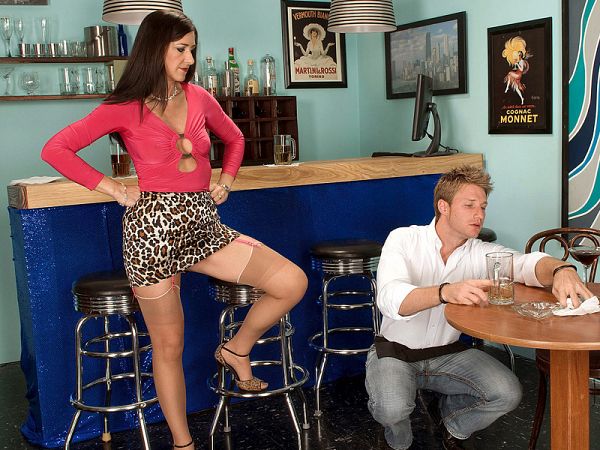 When this video opens, you might say to yourself, "What the fuck? What are those two chicks, who obviously aren't 40-something, doing in my video?" But then 44-year-old Gina shows up, and everything starts to click. She's wearing a tight leopard-skin mini, a skin-hugging top and fuck-me pumps. Turns out she's the boss of this eating and drinking establishment, and she's pissed off. Levi, the hired help, is late for his shift again.

"You have to respect me and do whatever I tell you to do," Gina tells Levi.

"I think you look hot," he says. "Is that respectful?"

"Maybe," Gina says, and then she loosens up in a hurry. He fingers her hairy pussy and feeds his cock into her mouth. At the end, he shoots his load into her wide-open mouth.

Gina is not the typical mature woman who suddenly discovers sex when she turns 40. A star of well over 200 fuck films since she was in her 20s, Gina says, "I'm easy. I just want hot, steamy sex."

Gina isn't into any fetishes. She doesn't want you to tell her that she's a bad girl, and she has no desire to fuck you with a strap-on.

"I love to suck cock and I love getting fucked hard and long," she said. "I've been horny for as long as I can remember, and I don't think that will ever change. It's just me."