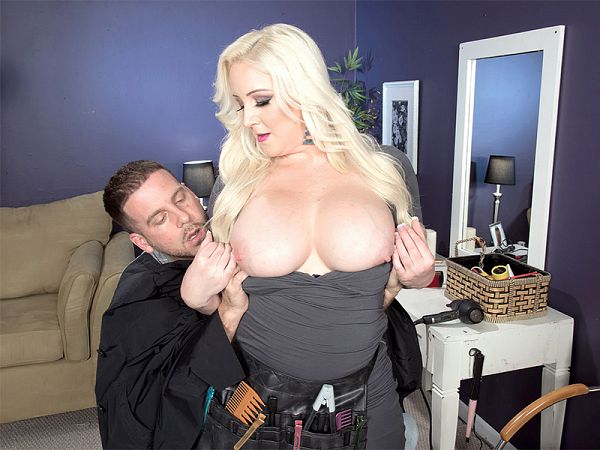 Ah, the female hairdresser theme...it's one of my favorites. What guy hasn't gone for a haircut and had his female hairdresser brush up against him over and over? Her tits, sometimes big, sometimes not, brushing up against him for the better part of a half-hour. Those smocks they have you wear in a hair salon aren't designed to keep hair from getting all over you. They're designed to hide your boner.

In this scene, Holly Wood is a big-titted, big-assed hairdresser whose cleavage is out. She keeps rubbing up against Tony, and before long, the two of them get so worked up that they fuck right there in the hair salon. Remember Kayla Kupcakes? She owned a hair salon in Fort Lauderdale, Florida, just a block away from the beach. We filmed a fuck scene with Kayla in her actual salon.

Anyway, I've never fucked one of my hairdressers, but I've definitely thought about it. Twenty years ago, I had a female hairdresser (nice ass, not much in the way of tits) who practically straddled me when she trimmed the front. But I've never experienced what happens here, which is getting a blow job and fuck from a hottie like Holly Wood in a hair salon.

Elliot interviewed Holly about several topics. Here are some excerpts:

SCORELAND: What is your favorite position for tit-fucking?

Holly: I love when a guy is laying on his back and I'm on all fours rubbing my breasts all over his cock and balls! Gives me the control of speed and motion. For a man to finish, I want to be on my back and actually watch as he cums between my breasts because there is nothing hotter than the moment he finishes.

SCORELAND: Do you watch porn? What kind? Do you have any favorite male or female porn stars?

Holly: I'm such a perv. The bigger the cock, the more turned on I am in porn! I actually have a list of my favorite performers! It would take me all night to run through it!

SCORELAND: Is doggie-style how most guys want to fuck you because of your buns?

Holly: Absolutely! Plus they know it gets me hot and heavy and they can't ever say no!