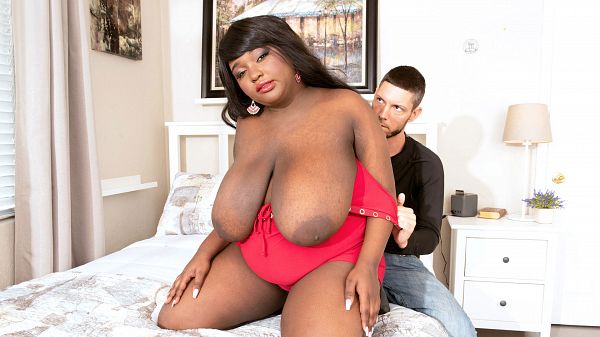 Barbie Crystal gives Tyler's cock the kind of treatment fit for a king. Her mouth, cleavage, pussy and butthole get him spurting like a geyser on her huge tits.

"I'm passive," Barbie said. "I like rough and hard sex. My favorite position is doggie-style. Nipple play drives me crazy. I like a man who loves to suck nipples."

Barbie guides Tyler's cock into her tight ass as she lays on her side. Tyler holds her leg up to keep her spread-eagle. She opens her pussy and fingers her pink while he thrusts in and out of her butt. Barbie's face and cries tell the whole story.

"I get a lot of attention because of my chest. I love it. It makes me feel desirable and powerful. I was very excited watching Tyler cum all over my boobs. His cum tasted good too."