Irish & American Stripper Slumber Party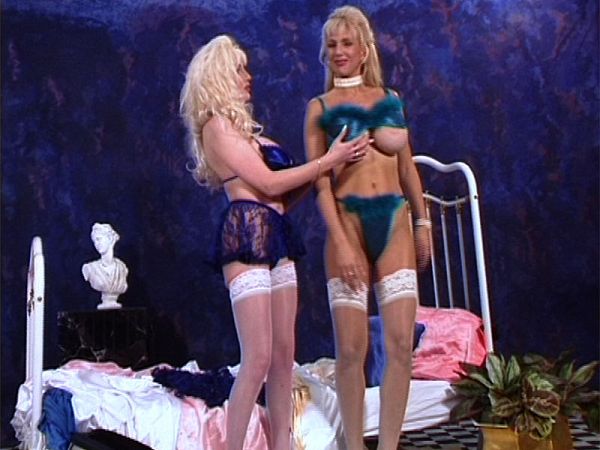 London. April 21, 1995. Jay Sweet and Kayla Kupcakes were at the peak of their physique and beauty. Slim and stacked with that blonde bimbo look. Jay was from Northern Ireland. Kayla was from Hallandale Beach, Florida.

Kayla and Jay: two slutty, big-boobed blondes with a taste for wet pink holes and enlarged, pointy nipples. They had the big stripper hair. They had the big tits. They wore the hot clothes. With their bodies, they could have cleaned up working together in a strip club. They were perfect for this skit.

Kayla is reading a copy of SCORE magazine in bed. This was a regular opening in many videos from that era for an obvious reason. Jay arrives with a satchel of exotic lingerie. Kayla was a stripper in Florida, and strippers were always buying hot outfits for the stage. Show Kayla a sexy top and her cunt gets wet.

Jay helps her undress and dress. She gets horny helping Kayla try on a bra that looks great supporting Kayla's big knockers. This is like a stripper slumber party. Kayla does the same for Jay. That leads to finger-fucking, pussy-licking and monster toy penetration. This raw video is uncut with all off-camera verbal direction intact.

The first issue of SCORE (June 1992) featured a pictorial of Jay. She met Kayla on the second Boob Cruise in February, 1995. Jay was already doing hardcore with men in the early 1990s.

Kayla first modeled in London in 1994 with American stripper Ava Lustra. Eleven years later, Kayla finally did XXX with porn studs in 2005, after we asked her for years to try it. And then, of course, the gates blew open once Kayla tried it.

Have you ever seen a woman fuck another woman's pussy with her nipple? That's what Jay does to Kayla. But trust us. These two have dirty minds. They need their pussies stuffed by something hard and long. They play with vibrators and a double-headed dong as long and as thick as a loaf of French bread.
See More of Kayla Kupcakes at SCORECLASSICS.COM!