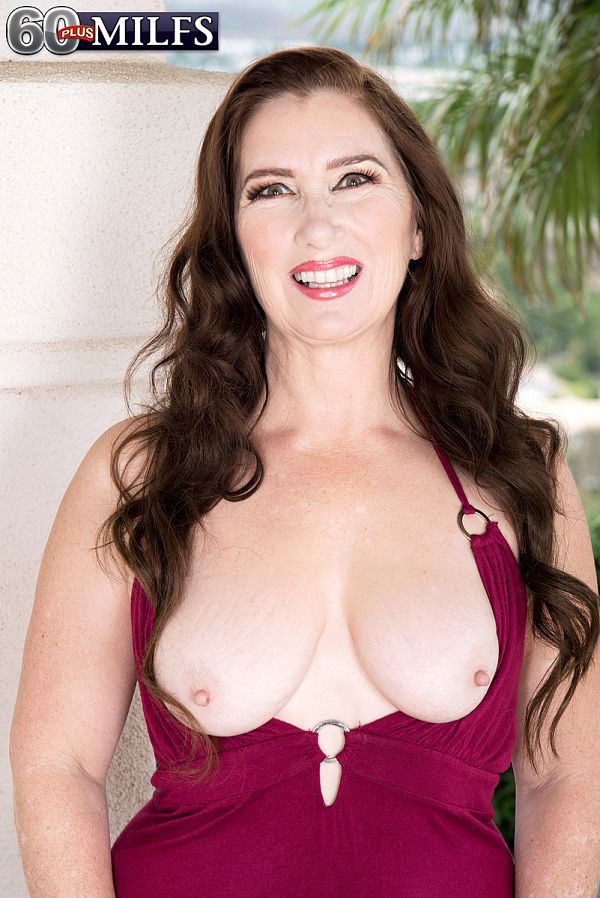 This week at 60PlusMILFs.com belongs to Maria Fawndeli, the 60-year-old wife, mother and grandmother from Washington who debuted last year.

Today: Solo photos in which Maria spreads her pussy through her crotchless panties and fucks herself with a big dildo.

Tuesday: An interview in which we get to know her better plus video of Maria getting her legs back so she can get that dildo deep into her pussy.

Wednesday: Photos of Maria getting ass-fucked while her husband watches.

And Thursday: The video version of that scene in which Maria gets her ass and pussy slammed by her grandson's friend.

Pretty damn impressive for a woman who had never fucked on-camera before she came to our studio and told us, "I grew up as a religious goodie-two-shoes full of judgments and condemnations. This really will be a fucking shock to most of those who think they know me.

"I'd been releasing the fears, shame and guilt of my youth and religion and thinking about branching out and exploring my sexuality. I told my husband that I would like to be in a sexy 60Plus magazine for my 60th birthday. We looked up several online sites. I like the presentations of the women at 60PlusMILFs.com and we saw an ad that I responded to. I said to my husband, 'It's time I branch out.' So here I am, and it's awesome!"