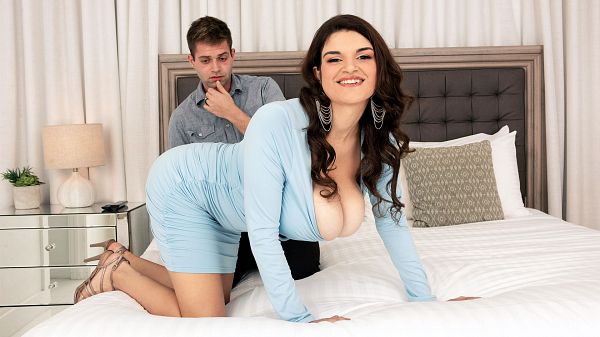 Dating is difficult at SCORELAND. As soon as the guy shows up at the chick's place to pick her up, they get it on in the bedroom or living room within a few minutes and never actually go out on the date. It reminds us of what model Maria Moore told us in an interview.

"I have a theory about the first date," said Maria. "I think you should have sex first. Why waste your time having dinner with somebody you don't like? I think you should just get it out of the way and find out if the sex is good, and then, if it works out, have dinner." A brilliant theory.

Buxom babydoll Jenni Noble is checking out her bodacious self in the mirror ready for a date. She's wearing a tight dress that looks like it should require a license to wear. A license to kill men. We mean her tits are bulging out of her low-cut dress and look like they're going to pop out any second.

When Nicky Rebel shows up for his first date with the naturally stacked and all-around lovely babe Jenni, he's stunned by the sheer size of her top shelf. She gives him the "My eyes are up here" hand signal. Since Jenni in her high heels towers over Nicky, his head is almost level with her chest, a good position to be in for any tit-lovin' man.

He's surprised because Jenni's profile photo on the dating app was a head shot and didn't show how breast-blessed she actually is. She did that because she wants to date guys who don't go nuts just because she has big tits. He's happily stunned.

Instead of going out, Jenni takes him into her bedroom where she fucks his brains out. He has a breast feast first. She pulls his pants off, eager to suck the sausage. Stunned stiff, he gives Jenni a fine tit-fucking and then dick-downs Jenni, fucking her bushy pussy and leaving her satisfied and facialized.

Another titillating example of the SCORELAND dating game with a Voluptuous vixen.