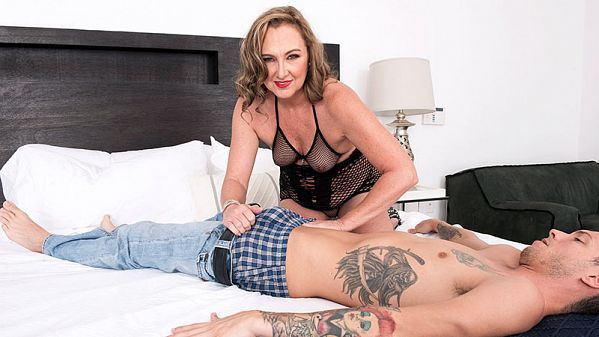 Jessie Reines wastes no time letting us know what she's going to do in this scene, her second video fuck at 40SomethingMag.com. The 49-year-old wife, mother and grandmother is wearing sheer, sexy, fishnet lingerie and fuck-me pumps. She calls over her guy, and he's quick to the summons.

"I've got this young cock here," Jessie tells us, "and I'm going to fuck him. I'm going to have that cock up my ass."

So, in a nutshell, Jessie's scene:

1. Blow job with sucking balls.
2. Pussy-fucking.
3. Ass-ramming.
4. Dude cums on her pussy.

Very nice.

"I like husky guys that take charge," said Jessie, who lives in Nashville, Tennessee. "I wait for them to make the first move."

She also has a wide range of preferences in men.

"I've been with guys from 18 to 65. The young guys have a lot more energy, but the older guys know what they're doing. I like to have a mix of both taking turns on me. The young guys make me scream and the older ones make me cum."

Funny. This young guy makes her scream and cum. But maybe that's because she has his cock in her ass.