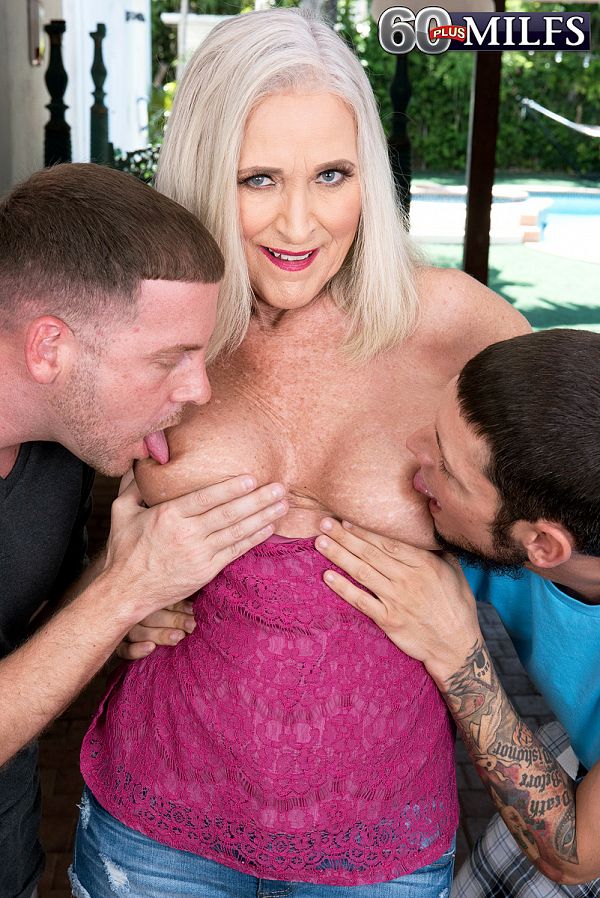 We asked 63-year-old Katia what she likes best about giving blow jobs, and she said, "I like the way a cock feels in my mouth and the way the man feels when I'm sucking him. I like the sensation of the man cumming in my mouth. That's why I like blow jobs."

Here, she doubles her pleasure by sucking two cocks. Add up the ages of the guys those cocks are attached to and they're just slightly older than Katia.

"Are you boys ready for me?" Grandma Katia says, her hands on their cocks. They're totally speechless. And, of course, she's going to be speechless because her mouth is going to be full. So is her pussy.

There are a lot of reasons we love Katia. She's beautiful. She's sexy. She has a smokin' body. Another reason: She's just a regular divorcee, MILF and GILF from Alabama who doesn't shoot for anyone else, isn't a nudist or a swinger, isn't sexually wild. We asked her how often she has sex, and she said, "About three times a month." She works and takes care of her family. Roots for the University of Alabama football team. Enjoys long walks and riding horses. Here, enjoys fucking guys who are hung like horses.

Katia has two daughters and six grandchildren. We asked her if she ever gets recognized, and she said, "Yes, on dating sites. I got recognized one time when I was working years ago, but mostly on dating sites. They say, 'I recognize you. You're Katia.' It's exciting!"

But not half as exciting for Katia as having sex with two hung studs for all the world to see. Not half as exciting as doing something that the people who know her would be shocked to see.