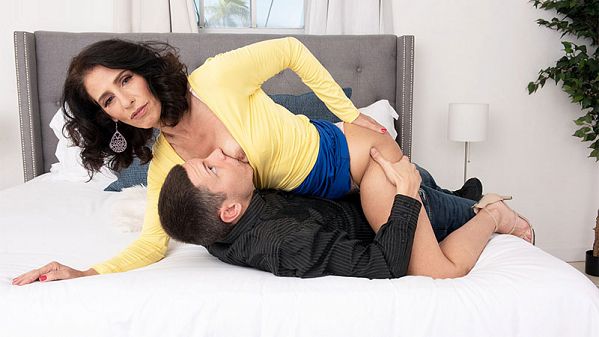 Keli Richards, a 52-year-old divorcee and mom, isn't like most other women. For one, she's a former porn star. She fucked a lot of big-dicked porn studs, including John Holmes, back in the Big '80s, when everyone was buying VCRs so they could watch girls like Keli in action.

For another, she has an extremely high sex drive, even by 50PlusMILFs.com standards (and that's high). And she loves getting ass-fucked as hard as possible.

When this scene open, Tyler, who's 32, gets out of his car. Keli is at her bedroom window, watching him. She knocks on the window to get his attention. Then she starts rubbing herself. He moves closer. He likes what he sees.

"Are you ready to get some of this?" she asks.

Damn right he's ready! She's perched on the windowsill and lifting a leg so he can get a little upskirt. Then she invites him inside...the house, her pussy and her asshole. She aggressively pushes him onto the bed and straddles his cock. By the way, Keli has very nice legs.

"Let me see what you've got under here," she says.

It doesn't take her long to find out. She sucks his cock and balls, taking his dick all the way into her mouth. It's as if she's trying to swallow as much cock and balls as possible. She's had a lot of practice.

Tyler fucks her and she fucks back. She talks dirty. She spreads her nice, pink cunt while she's getting ass-fucked. Like we said, Keli isn't like most women. She's better.