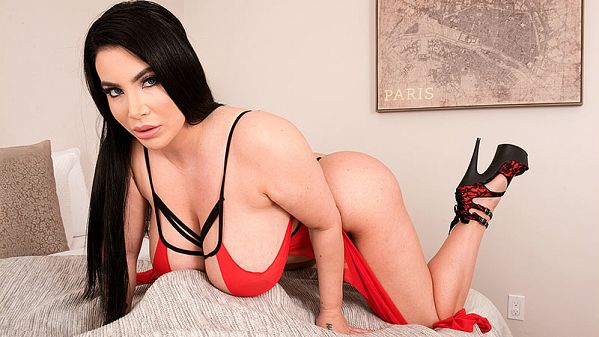 Warning! Korina Kova's really big tits swinging and bouncing and her hot ass twerking may cause male brain meltdown. Korina likes to move it, move it. The beautiful SCORE Newcomer of the Year and XBiz Female Clip Artist of the Year winner brought her life-sized male torso for a P.O.V. thrill this time.

Korina deep-throats Mr. Torso-man and tit-fucks it, then rides it hard every which way. She's super-hot, bouncing up and down on the dildo-dick in both directions.

"I like to go with the flow of how I'm feeling," Korina said about her process in making videos. "I love the idea of being spied on and romantic situations."

A full-size, realistic sex doll of Korina will be available soon, sculpted by Real Love Sex Dolls in Texas. As of this date, it's in the last stages of production. "I've always been super into the idea of having something molded to look like me for all of you to enjoy. Some people might think that it's strange that I like that. I actually approached the company with the idea and they liked it so much they decided to go with the project."
See More of Korina Kova at PORNMEGALOAD.COM!