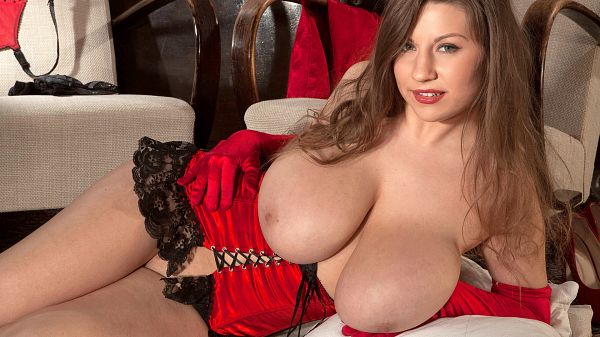 Samantha Lily appeared at SCORELAND shortly after she started modeling on webcam. She is one of the great naturals and her style of modeling is strictly traditional: boobs and ass.

I was able to talk to Samantha, a very friendly girl-next-door. That is, if you live next to a girl with J-cup naturals.

When you are not webcamming or studying veterinary science, what do you like to do on a free afternoon?

Samantha: When I have free time, I cook. My day schedule is very full. I have to study, webcam, cook, clean my apartment and do photo shoots because people buy my custom photos and videos.

If you could choose any sentence to be printed on your T-shirt, what would it be?

Samantha: "Beauty will save the world."

What is something you have tried but will never do again?

Samantha: Having sex with my best girlfriend.

What celebrity would you trade lives with?

Samantha: Mmmmm, actually none. I am building my life as I want, and now I am living my own perfect present. And my future will be even better. I would never trade lives with someone.