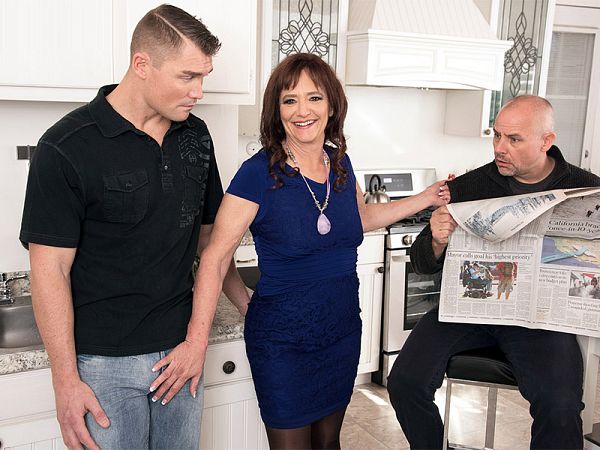 "I never thought I would say this because I used to be so shy, but I love to be watched," said Whinny Spice, a 52-year-old swinger from Arizona. "Whenever we go to parties, my favorite guy and I frequently get things started. People love to watch us, and that's fine by me. I love the idea that people are going to be seeing me."

In this scene, Whinny has been out all night. Her guy is sitting at home, all worried, but he needn't have been concerned. Whinny is in good hands. She comes home with a nice guy she met at the club and fucks him in front of her hubby. Is that a nice thing to do? It is if you're Whinny or the guy fucking her, who's young enough to be her son.

Whinny is a paralegal. She used to be a photographer at horse shows. Her hobbies: "Riding motorcycles, rock climbing, kayaking, SCUBA diving and riding horses."

"I have not had any really wild experiences, but the night I met my favorite guy was pretty amazing," she said."We met at a club. I noticed him as soon as he drove up on his bike, so I was watching him. A little later, I ended up sitting next to him in the smokers' circle. We started talking, hit it off, went inside and ended up playing, first in the couples room and then in the safari room."

The safari room, where they went at it like wild animals.

"I love to be taken from behind," Whinny said. "My breasts are very sensitive, so I like a lot of attention paid to them."

Whinny was referred to us by 60Plus MILF Leah L'Amour after going to one of Leah's swingers parties.

"She made it sound really exciting and fun. It's all happened so fast. It's been a blast."